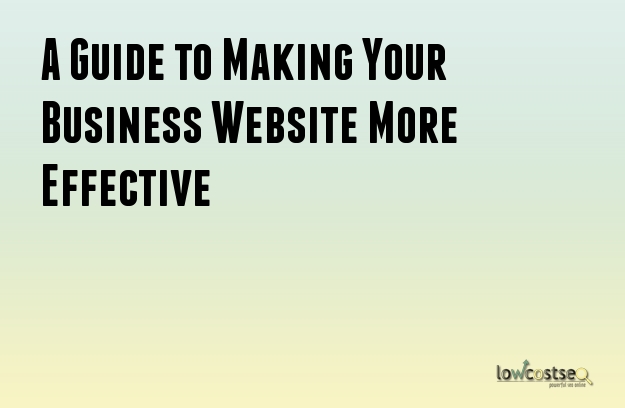 In today's world, the internet has become an essential part of everyday life. For a business or a company, a website is the most important tool in its arsenal.
A website can be more than a source of information for customers of the company. It can be a marketing tool for promoting products and services. It can increase the brand awareness and exposure. Whole new markets and customer bases can be reached with your website. In fact, a website opens up a whole new world of possibilities.
However, do you know what it takes to make your website effective for your business? You can use the following tips to improve its features and functionalities so that your website develops into a powerful platform for your business.
What is Your Aim?
A website can be designed for a variety of reasons. You should ask yourself what purpose you want your website to fulfill and why do you have it in the first place. The answers to these questions can determine how your website has to be developed and designed.
Do Not Forget Mobile Friendliness
People do use their mobile devices to connect to the internet. Additionally, Google has taken steps to ensure mobile friendly websites are given preference in their search rankings. Therefore, while redesigning your site keep this point in mind.
Short Menus are better
Simplify your navigation by keeping your menus simple. Clean and simple menus help in making your layout look better.
Use Calls to Action
Try to place your calls to action on every page. You need to give something for the customers to act on. The users should know what to do.
The About Us Page is Essential
People want to know more about you. It does not matter if you work alone or if you have a huge team working for you. Customers would prefer to know about the company they are going to do business with.
Images Should Be Big and Bold
Images are the best bet you have for keeping the customer glued to your website. At the same time, their appeal depends on their size. Opt for high resolution images that capture the attention of the visitor.
Use Corporate Branding
You may have already determined the colors for your brand. In that case, feel free to use those same colors in your website. The consistency will be loved by your customers. After all, the experience at your website should match the experience in your brick and mortar location.
Eliminate Distractions
There are so many things that people tend to implement into their websites that add nothing to its functionalities. These items can include a music player or an unnecessary loading page. Eliminate them as they are only hindering the movement of your visitors.
The design of your website should have only one aim and that aim should resonate with the aim of your site. If your website is meant for selling items, you need to design accordingly. On the other hand, the design will be different if you are only going to use your site for providing information.