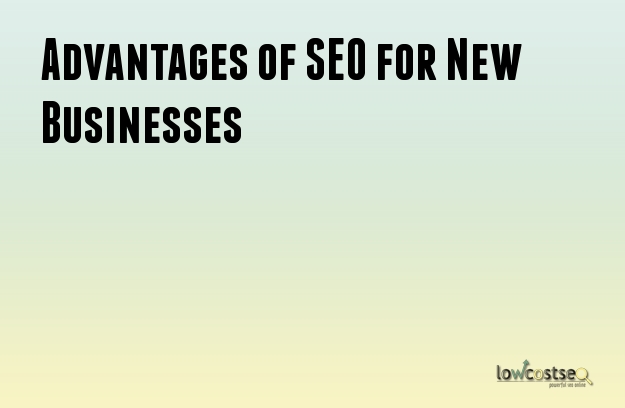 Search Engine optimization is a process that ensures that your web site ranks on the first page of major search engines like Google, Yahoo and Bing. If the visibility of the website increases the page traffic will also go up resulting in greater conversion rates and profits.

SEO is a very useful online marketing tool and new businesses should pay special attention to it if they want to increase their brand visibility.

Benefits of SEO for New Businesses
Low cost: The greatest advantage of SEO to any other marketing tool is the affordability. You just need to choose a relevant keyword for your business and optimize your web site with it. Whenever the potential customers search the web site with that particular keyword, your website will pop up in the results.
Increase in page traffic: With good SEO services your web site will be more visible and be on the first page of the search results. It will be more visible to the potential customers and there will be an increase in your page traffic.
Brand Recognition: If you are a new business owner, the biggest challenge is to make your brand known to the potential customers. The increase in visibility with SEO services will take care of it.
Demand Driven: The customers usually search the websites with certain keywords when they have a demand or are looking for something. If your web site is optimized correctly, the customer will visit it and find what they are looking for leading to more sales.
Improvement in website: Small or new businesses often tend to ignore the quality of their business websites. This is a major mistake since your website is the first thing that your customers will see. If it is unattractive or does not have easy navigation the customers will not bother to check out your offerings and services. If you employ SEO for your website your will automatically have to improve its quality in order to make the search process smoother.
24/7 promotion: SEO will make your website accessible all day long 24/7. It does not matter if your office is open or not or whether there are sales representative to answer the customer's queries. Your website will be the one solution for all the marketing needs.
Huge customer reach: By increasing the visibility of your website, SEO will increase your web site's reach. You will have an international presence and can enter into business relations with customers all over the world.
Stay ahead of your competitors: If you get your website optimized properly, you will be able to stay ahead of your competitors and rivals. When the customers search the internet, your web site will come up in the search results at higher ranks which in turn will give you more sales and profits.
Connect to other people: Today SEO is incomplete without optimizing the social media. If you pages are indexed on the various social media sites, you will be able to develop healthy networking relationships with people of your industry.