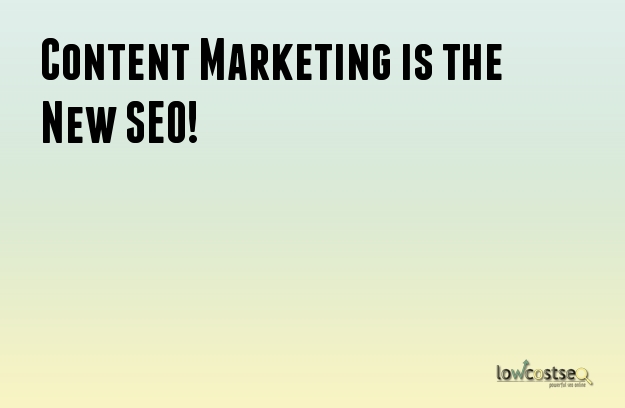 Content is still the king! And while the era of big data is growing on a wider scale, market executives continue to grapple with their creative teams to find new ways to target their audiences smartly and efficiently.

But while creative content marketing steps up on the ruling dais, is it time for spammy SEO techniques to take a final bow?
The answer is a big YES!

Enough of Spammy SEO Techniques! Time for SEO Content Marketing

Informative content help to generate better ROI and earn a top rank on the search engine. It is a kind of a winning solution that is both effective and efficient.

Enough reasons why it's time to bid Spammy SEOs a big good-bye and welcome the strategy of good content marketing in real sense –

Content Marketing and How Everything Started
It all started in the year 2011 when top brands like Jell-O, John Deere and Dr. Oetkar used contents to put down valuable information as a demonstration to show customers the best utilization of the products. One of the strategies was circulation of recipe books that contributed to major sales. That's how the trend of content marketing kick-started in its true sense.
In 2012, some of the major institutions and organizations realized the potential of good content marketing and started taking it quite seriously. Nearly nine out of 10 companies began using content marketing as a digital promotion medium. But, as mentioned above, the focus was on the quantity of the content. This continued until Google realized that lack the quality content could be useless for people who browse the internet for information and rolled out a new kind of algorithm – Google Panda.
Google's Panda is an algorithm that rewards sites publishing good quality content with top ranks. Marketing executives began taking their content creation more seriously and the focus gradually shifted to more quality contents. But Google Panda was no the end.
In 2013, the search engine giant introduced the knowledge graph that aimed to provide additional information based on keywords. This led organizations to change their content marketing strategy once again. Today 90 percent of the organizations use social content while 75 percent use the medium of blogs for their content marketing strategy.
By August 2013, in-depth contents became the trend and according to market studies, white paper is recognized as the medium that brings in the maximum ROI.
By 2014, Google introduces the Pigeon algorithm to offer users with relevant local search results that is believed to generate more engagement. About 63 percent of marketers start spending more on local content marketers.
2015 was the year of Mobilegeddon. According to the new algorithm roll-out, mobile friendly sites were valued more in the eyes of the search engine bots. They were also rewarded with better ranking. With more than two billion smartphone users worldwide, the objective was to make sure that users can access digital information from anywhere and on any device.

Good quality content is seen as one of the key goals of SEO ranking. Hence content is still the reigning king!
Image Courtesy:
www.colliermarketing.com