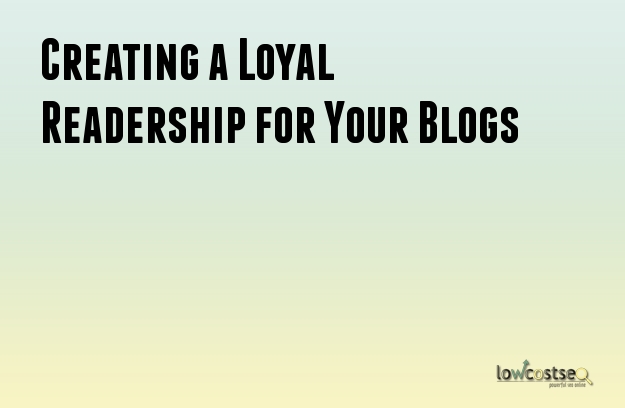 Blogs are certainly excellent devices for content marketing and SEO. With a loyal readership, you can improve your business by leaps and bounds. In order to create loyalty amongst your readers and audience, you have to make your blogs credible amongst other things. There are a few ways to garner a loyal readership.
The Need for a Loyal Readership
You should try and create loyalty amongst your readers. The majority of customers place their trust on the information and advice they gain from credible blogs. At the same time, online companies can get a sizeable number of customers from the readership of their blogs. Even when it comes to making a purchase decision, consumers opt for recommendations from bloggers. In short, consumers believe that blogs can help in forging a good relationship between them and the company.
Ways to Retain Your Readers
The only way to create a loyal readership is by ensuring that they keep coming back for your blogs. A few tips can help you in the matter.
Try to be different when posting information on your blogs. Readers do not like reading information that has been posted before even if you rewrite it. Post something new.
Readers prefer a human connection the blogger. That is why they like to read blogs written by individuals rather than companies.
Opinion is essential when writing blogs. In some cases, writing from a neutral point is preferable. However, the majority of readers prefer blogs which contain the opinions of the writer.
Consistency is of critical importance when posting blogs. If people do not know when your next blog is going to be posted, they can decide to look for other bloggers to get the things they are looking for.
People enjoy sharing content that they find interesting or entertaining. Therefore, make it easier for them to share by adding social buttons. Do not forget to add an RSS option as well. Place them at the correct location so that people can access the buttons with ease.
Showcasing Credibility for Your Blogs
Readers can consider your blogs to be authoritative if you seem credible. You can easily demonstrate your credibility through the following ways.
You should have a website that looks and feels professional. It will make your blogs look professional as well. Poor designs will simply make your readers feel that you are an amateur and not an expert.
The pictures that you are posting in your blogs should be of high quality. They look more professional. Additionally, try to ensure that the images are relevant to the content of the blogs.
One of the best ways to ruin your credibility completely is by using bad grammar. Proofread your blogs before posting to minimize and eliminate mistakes.
Add a logo that looks attractive. The placement of an attractive logo adds stature to the blog and website.
You can add a picture of yourself if you have written the blogs. Ensure that the picture looks professional.
Loyal readers are more likely to bring in new readers and consumers to benefit your business or blog.