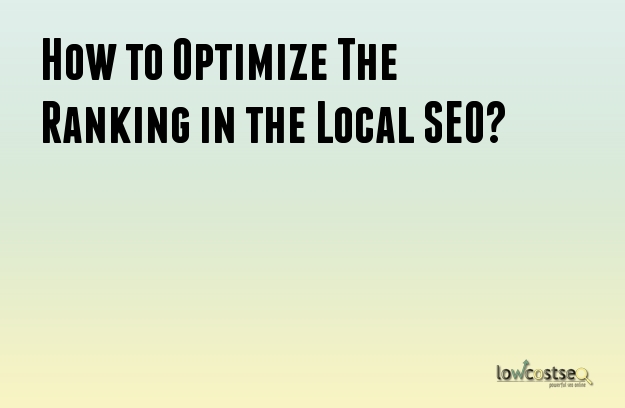 Are you anxious as to how site may appear in the local SEO? Are you aware of the quality of your local SEO? Do you know how your site looks when you people try to look for your products or services in the city or town you function in?

Google's new algorithm makes it clear that it wants to serve its people better. This shows that SEO is an important factor in regards to online marketing strategy. If you want to improve your local SEO then here are some guidelines for you.

Factors effecting your local ranking in SEO

Title Tag: You should provide a title tag on your landing page. You should take care to mention the name of the state and city in your title tag. This is one of the most important ranking factors. Like for example, if you are producing some components in Australia then you should make sure that the Australia is mentioned in the title tag, landing page and homepage.

Domain Authority: There are several metrics to determine the domain authority of a website. More the domain authority more is the traffic of your website. To enhance the domain authority of your website you need to remove all sorts of bad links and increase the number of good links in your website. The internal linking of the website should be made strong. You can also secure an idea about the domain authority of your competitors.

Page Authority of Individual URL: There is a certain metric that decides the ranking of a particular URL in the search engines. If you want to target a particular keyword then page authority is the thing you should work on. When you provide a particular service mentioning it within the website will improve the authority of the page.

Quality of Links and Authorities: The quality of inbound links that point towards your domain name is one of the important factors that affect the local ranking of a website. Links which are good for your website are generally those links that are connected to high quality website. Quality links should also relevant to your industry. You need to get as many quality links as possible directing to your website. The links that link to individual pages of your website should also be of good quality.

Page load time: The page load time of the site is an important ranking factor. Optimize the site. You should look into the factor whether your site is using a local ranking factor. If so then shift to different hosting. Then measure the performance of your website again.

Citations: You should provide citations of your business on your website. The name, address and phone number enables you to establish yourself as a trustworthy website. Your business will outrun others if you provide several high quality citations.

Product or Service in URL: If the needed keywords are not available then you can change the name of your business and create another page for mentioning the products and services you offer. Create a separate page if you want target the audience towards a specific product.

Location in H1/H2 tags: You need to mention the location in the landing page as well. This will increase the traffic of your website.