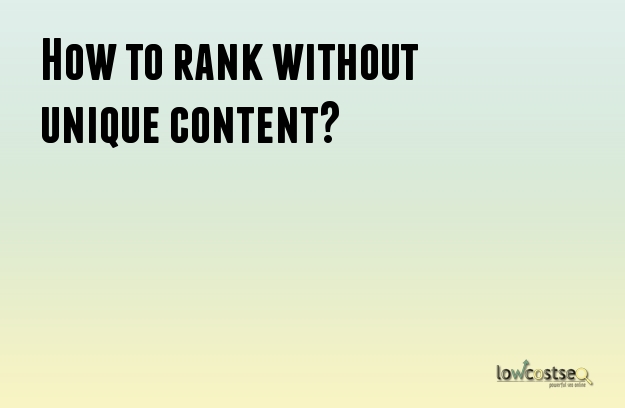 Recently we have received lots of questions about how to rank without having unique content on the website. Now this is surely a difficult one for us to answer too as we as SEO experts know how valuable unique content is. As a reader you would not want to read the same content again and again so having different content is not only essential but critical to your site's success. Now what if its not possible to do so, in the case of a price comparison website? Infact any sort of comparison site will encounter such a problem due to its content being duplicated or unavailable. These sites simply have the same content as their competitors When we say content we just don't mean text as that is what people think we imply. They also have similar images and as they do not take them hence they have no unique way of displaying them or better clearer images with high resolution etc. The other cases where there is a problem with content uniqueness takes place in travel agencies, booking agencies where they all aggregate content from the original source.
How to solve this problem?
Well by using the data and also add unique insights to it. You could possible present the data in a unique value for the visitors to see. A good example is the data can be used to show historical price change of the product prices that you tend to display. You can show fluctuations in pricing with the help of trendy cool graphs that predict the price rise and fall in the different times of the year. Do you have other ideas on how data can be used to add additional value to the users?