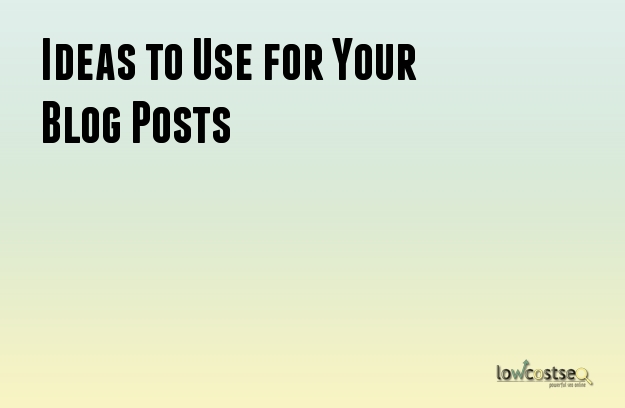 According to the recent statistical results, it has been noticed that websites can benefit form including a section on blogs. Blogs can help the websites attract a higher traffic flow. Blogs can be entertaining or informative. You just need to ensure that the content is related to the business you are dealing in.
Blogs are extremely beneficial for SEO campaigns. Optimizing your website with keywords and backlinks becomes a much easier and smoother process when you have a blog. People can share your blogs on social networks which is an effortless method to garner links. Additionally, you can place the necessary keywords within the content of the blogs.
Be that as it may, you will need to keep your blog fresh so that your readers keep returning for new information. You have to constantly come up with new ideas to use for your blogs or you risk derailing your SEO campaign. In case you run out of ideas, here is a list of possible ideas that you can use for your blog posts.
Ideas for Useful Blogs
List blogs: These blogs simply provide a list on items related to a particular activity such as fishing.
How-to blogs: It is a basic blog post which helps your readers to perform a certain action.
Case studies: You can discuss case studies related to your line of business with these posts.
Problems and solutions blogs: These blogs outline a particular problem and then provide a solution for it.
FAQ blogs: As the name suggests, you simply provide a collection of frequently asked questions about a certain aspect of your business.
Research blogs: This can be a detailed blog which shows the research that you conducted on your own on a particular topic related to your business.
Checklist blogs: These types of blogs are similar to list blogs but tend to be more easy to understand
Guide blogs: These are highly detailed blogs which give a complete guide to the reader on a certain topic associated with your business niche.
Definition blogs: In your business, your readers may come across topics that are difficult to understand. These blogs can provide the necessary education.
Blog Series: There can be topics which are perfect for creating a series of blogs rather than a single one. You can post each part of the series on a regular basis to make your customers keep coming back.
Contest Blogs: You can host contests from time to time to increase the engagement levels of your readers.
Comparison Blogs: You may be offering similar products or services. Comparison blogs can help the readers understand the difference between them. These blogs can also be used for other topics related to your business.
Personal blogs: These blogs can cover a range of diverse topics. You can wish your readers on holidays or give them a glimpse behind the methods you use for your work. If your blogs is going to serve your business website, then you can avoid intimate topics.
Writer's block can occur even to the best writer and blogger. Keep a lookout for inspiration and ideas for your blogs as there are many to use.