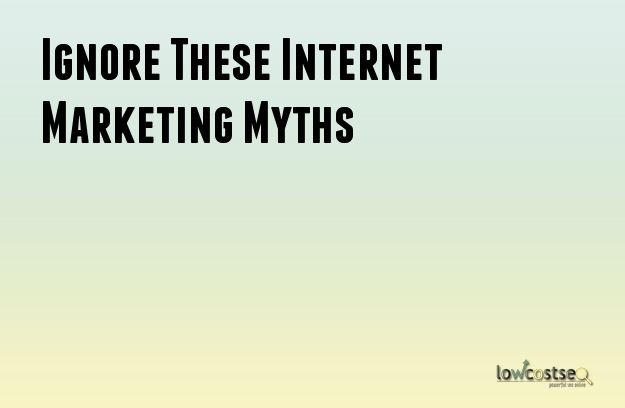 There are many reasons that provide a good argument for investing in internet marketing techniques to provide a boost to your company. Unfortunately, many people believe that internet marketing is not going to work for their company due to the many myths that they choose to believe. Once those myths are out aside, it is possible to create a marketing strategy that is both practical and beneficial.
Myth: Social Media Is Unnecessary If the Target Audience Is Older
The fact is that seniors are active on the internet more than ever. Facebook seems to be their preferred choice when it comes to social media networks. You can reach your targeted customers through internet marketing.
Myth: A Mobile Version of the Website Is Unnecessary
You need to ensure that your website is supported by mobile devices. The use of smartphones and other mobile devices have increased in recent years. A good number of your prospective customers might be using mobile devices to visit your website. If they are unable to view the website, they will not take the effort to use desktops to visit your website.
You need to make sure that your website can be viewed in the proper format without any errors irrespective of the device used to view it. At the same time, you should use only one website. You should not have to host another website simply to enable your customers use their mobile devices for visiting your company online.
Myth: Email Marketing Has Lost Its Importance
You can still use emails as an effective marketing tool. However, you will need to use it in a different way than before. You need to create an email list on your own by inviting your customers and website visitors to subscribe to your email lists. The emails that you send will have to be designed in a more attractive manner.
Good and quality calls to action, effective subject lines and other similar methods need to be incorporated so that your email marketing campaign remains successful.
Myth: A Logo Is a Brand
A logo is not your entire brand identity. Instead, it is just one specific part of the brand identity of your company. The brand identity itself is a more complex entity. In simple terms, the brand identity can be considered to be the perception that the world at large has of your company. It constitutes the personality of the company. Every single action you take as a company has an effect on the brand identity.
The brand identity of your company can have a tremendous influence on the opinions that your potential customers harbor about your company. It can also influence their decisions regarding the purchases. Your websites need to have your logo certainly but it should also be designed according to your brand identity. The colors, the text, the tone of the content are just some of the things that should be designed with the brand identity in mind.
You should conduct thorough research into the marketing technique you want to use. Doing so will help you understand what the myths and the realities of the marketing technique actually are.