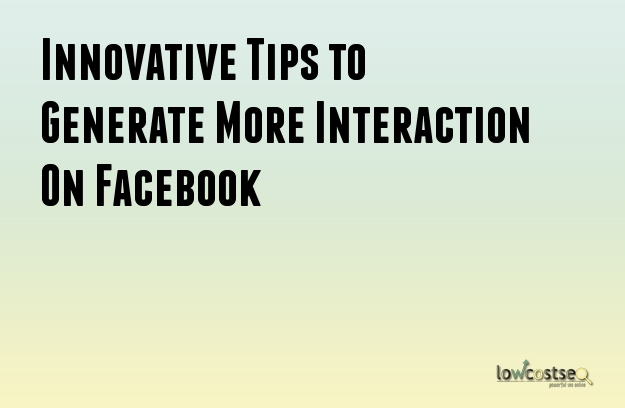 Are you thinking of generating more interactions on your Facebook account? Are you anxious as to how to reach your goal?

More amounts of marketing and advertising companies are investing in Facebook to increase their popularity among people. But, the scary part is what if their advertisements on Facebook profile get avoided. For we all know that nobody looks into Facebook profiles for adverts. This will require you to follow some procedures or steps. Here are some steps that will help you engage maximum interaction on your Facebook page.

There are times when Facebook has more amount of interaction. Posts that are published in the latter half of the morning are known to engage more followers. These posts have more than 80% of engagement than other posts on an average because viewers are more active during this time. Time is an extremely important factor when you post on Facebook.

Attach some images to the posts. Pictures are responsible for grabbing more attention of the audience than texts on the posts. The viewers may overlook what has been written but will hardly miss the pictures. Keep the images relevant to the post.

Keep questions in the post. This is a great way to strike up a conversation within the people and make them respond to the posts. Thus, posts that end up asking questions are likely to generate more amount of interaction than any other normal posts.

Put up videos because they are the most shared post on Facebook. Videos are known to have 80-90 % of Facebook share.

Postings on Sunday have been seen to engage maximum interest in the audience. The amount of involvement on this posts is more than 50% than an average Facebook post. This is because most of the people have a day off on Sunday and spend their time leisurely browsing through social networking sites.

The post should not have more than two hundred character to make it perform the best. This should be excluding the images in the posts.

The post that made directly to Facebook ensures less amount of engagement than posts that are through the third party result tools.

Posts that are linked to content that are long in form, breed more interaction than contents that are short in form. The long content should have around 2500 words.
Make sure that you post frequently. Pages posting about twice a day generate more 40-45 % followers. Having more than two posts in a day may have an adverse effect on the followers.

Organize contest to create more interest in your faithful followers. This will get your targeted audience to pay a visit to your page more frequently. Various types of contests can be held keeping in mind the interaction you would like from your viewers.

Make it a point to keep your contents entertaining. This will keep the audience from getting bored while reading the posts.

Take part in the conversations that are taking place on your page. Comment and reply to the questions that are being asked by the viewers.