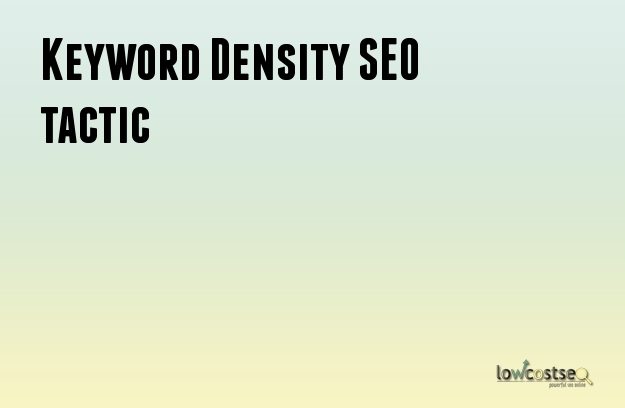 Today we will talk about a tactic used in SEO for the past number of years that actually has not really worked. Just like the Meta keywords this has not really worked too. No search engines has specified the amount of times you should use a specific keywords on your page or the percentage of the content that it should make up. We advise that over emphasis on the keyword density can actually end up having a negative impact on your rankings. When you think about keyword density and then write content it will be difficult in doing so. Its more imperative to have your content as engaging as possible and not just pieced up together by keywords that are placed out of context to simply make up the density percentage. The main aim is to keep the audience informed at all time and that should be your main objective when writing content for your site or blog.
Now you'll be asking "is there any alternative solution to this"? yes there is, instead of you thinking and worrying about the keyword density, simply focus on writing content that will bring in the audience. You can focus on working on the long tail traffic and the more in depth and engaging your content is the better the traffic will be from the search engines. Another tool is called Research, as you try to find out problems that your users want solved, you will dig up information and also discover and use phrases that you might have not located on any keyword tool. As your audience will rely on you for information so you can easily engage with them and share with them the new keywords in this process.
Finally, you can also use the keyword tool to search for keywords related and then somehow interlink and discuss them within your content. However you do it, make sure it serves brilliantly to the end user who relies on that piece of information. Try to avoid using several variations of the main keyword and instead focus on finding topics related to the keyword and add them within the content that you write.
Below is great example via socialmediasun that undertook a study showing the effects Keyword density has in terms of ranking on Google.