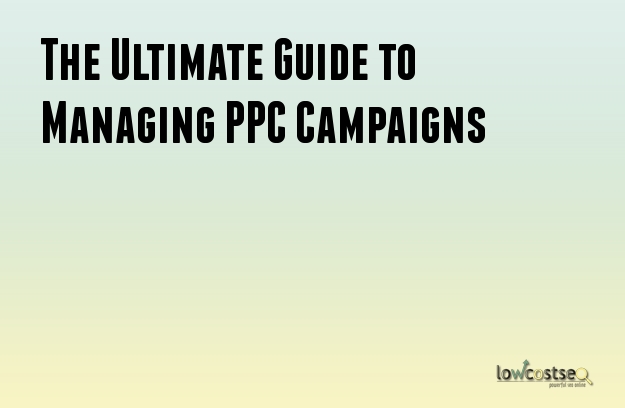 You may have already invested in SEO for your website. However, have you considered paying to get your services advertised on Google? Pay-per-click marketing campaigns are certainly a good way to bring in more customers to your site. In order to do so, you simply need to get yourself an account with Google AdWords.


This is a highly detailed platform that has all the options required for an in-depth management of your PPC campaigns. Be that as it may, using it can be a bit confusing especially for those new to it. Here is a guide that can help you make sense of the platform and use it for your marketing success.

Tips for PPC Campaigns
You should certainly keep testing different ads so that you can find one that brings in the most results.
Avoid restricting your search terms to a few. Use a mixture of terms instead.
Using ad extensions can help you appear more professional.
Don't forget to keep a track of the activities of your customers.
Use long-tail keywords as they are more effective in bringing in customers at a lower cost.
Consistency in your ads is crucial if you want to avoid a high bounce rate.
You should trial dynamic keywords.
Don't forget to keep tweaking and fine-tuning your website and ad campaigns.
Make sure that the clicks are not wasted by ensuring relevancy between the ad and the landing page.

Understand the Analytics of Your Website and Search Campaigns
Discover the key locations of your consumer base and use the information to improve your PPC campaigns.
Research all avenues of ads such as display, video and mobile and invest in more than one of them.
Find out the key demographics of your business and use this data to improve targeting.
Use search words that lead to conversions so that the bounce rate can be minimized.
Keep your forms short and simple.
If the numbers are low, test out your theories instead of guessing at the source.
Always make sure that you are following the best practice guidelines laid down by Google.

Design Your Website Effectively
Make sure that the loading times of your webpages are as low as possible.
Use features that your competitors do not have in order to increase your traffic.
Your website must be optimized for all devices.
Check the landing page to ensure that it allows users to keep browsing without becoming too cluttered in the process.
Make use of AdWords to create different ads for different devices.
Include testimonials and reviews to build up trust.
Decrease the number of clicks required during the conversion process.

Make Use of Contextual Advertising
Create ads that target specific devices based on which device brings you most results.
On the other hand, you should not neglect the audience that comes from mobile devices.
Implement keywords in your URLs to boost the traffic.
Your graphics should be relevant to the search query.
There are certain features available in AdWords that are displayed in mobile devices such as call buttons. Ensure that these features are used.
Image Courtesy:
affiliatesbootcamp.com