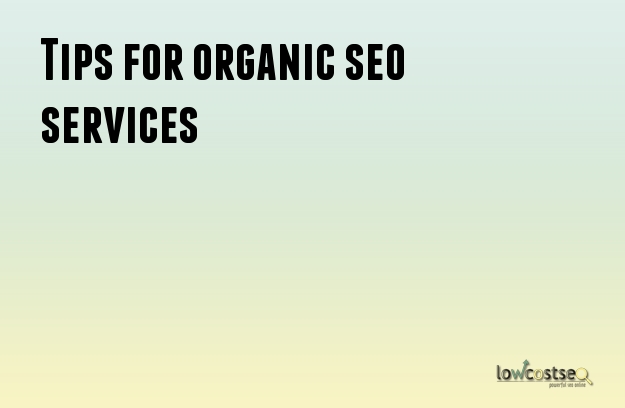 The basic reason for creating a good search engine optimization strategy is to get good ranking on the major web site like Google, Yahoo and Bing. It is true than Google often changes and upgrades its algorithms, but with certain well thought out strategies you can ensure that your web site ranks high.
Organic methods are those methods that are legal and can improve the search engine results. Some of the most useful tips for it are:
· Set up a proper list if keywords: SEO is incomplete without keywords. It is the keywords that are actually used to optimize the web site. Choosing the right keyword is a challenging task and you need to be very careful about what you are selecting. It should be relevant to your web site and the products or services that you are offering. You can go to Google planner and check the estimated traffic. This way you can get an idea about the keywords and phrases that are most common.
· Content quality: SEO is directly related to content of the web site. Make sure that you write good quality content that is well researched. Better the content quality better will be the web site traffic. Also make sure that your write lengthier content as it encourages client conversion. Making the content relevant is also essential since it will get more hits.
· Cornerstone page: It often happens that if you have several pages optimized with the same content, Google may not understand which of it is the most relevant. So it is a good idea to merge the pages together to create a cornerstone page. This way the search engine will not get confused about the importance of the pages.
· Proper keyword repetition: Placing the keyword correctly is very important for successful search engine optimization. Too much repetition of keyword is also not suggested as it will make Google treat your web site as spam. Use the keywords only 2-3 times in short articles and for long articles use it 4 to 6 times.
· Optimize the title: Optimizing the page title is very essential if you want to get a good ranking. Keep the keywords within 70 characters and include an important keyword in the title. It is preferable to put the keyword at the beginning of the title for better results.
· Write good meta descriptions: This is basically the HTML tag that gives a brief description of what the page is all about. It is different from the content written in the web site. This is very important to gain the proper number of clicks. You should write the description within 150 characters. Include the keywords in the text if you want to give good results.
Never use black hat techniques: these are basically illegal techniques that are not permitted by Google. Using them may look appealing since it may give quicker results. But, it is unethical and your web site can land in serious trouble if these are caught by the search engines