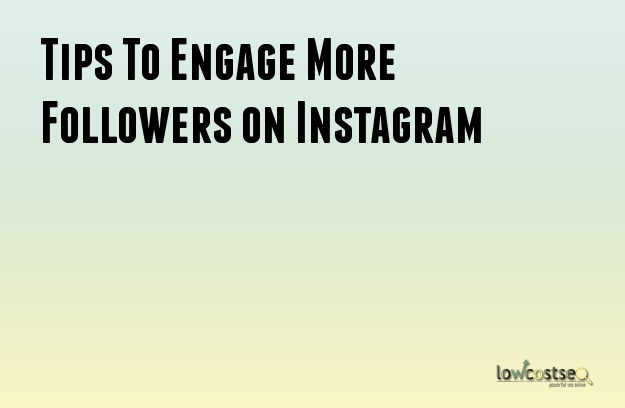 Do you want to involve more people on your Instagram profile? Are you looking for ways to increase the engagement of followers on your posts?

The task of engaging followers on the post on your Instagram profile may seem more difficult than building up followers. Well, if that so, then here are some factors that will help you to engage more followers

Post frequently

The more you post the more followers you engage on your post. Research has clearly shown that the all bigger brands have the tendency to post about nine to ten postings per week on an average.

Know the proper time

Find out the time the viewers are more active. Posting around this time certify more amount of engagement on a certain post.

Interact

Make sure that you engage yourself in interacting with the followers. Communicating with other users is also for essential. Always give a response to the comments so that the followers feel at place and interact even more.

Create your hashtag

Do not just use the existing hashtags. Make it a point to build up your own hashtags for your brand. Also posting the right hashtag is very important as that will fulfill your aim to engage followers and gradually increasing them.

Know your followers

Get to know your followers well. Research on the kind of industry you are aiming for. This will help you identify the post that is more popular in this field.

Maintain the trend

Try and keep your profile synchronized with the trend. Identify the trending hashtags and customize your hashtags according to that.

Keep strategic photos and videos

The images of the profile should hold up the well being of a website. It should be linked to the caption. The videos should be interesting and should not be more than fifteen seconds long. Both the images and the videos should be of a good quality.

Keep your followers entertained

Keep following and liking posts that are related to your business and those that are entertaining. This will make the followers feel more enthralled by your involvement.

Organize contest

At times hold different contests and distribute prizes. This will make the viewers feel more interested and keep them engaged to what you are posting.

Connect it to other social site

Link up your Instagram profile with other social networking sites like Facebook, Twitter, YouTube, etc. The viewers will thus feel more intrigued.

Identify the best post

There are some posts that will get more likes and comments than the others. Identify this and the same technique on all your other posts.

Bring your customers to spotlight

Keep posting pictures of people who has acquired your product. This will not only engage the viewers but also bring the product to spotlight.

Promote valuable content

You should only share posts that are valuable. The content should be relevant. It is important to keep one promotional post between 15-30 non promotional ones as that will give a better chance of viewership.

Have seven hashtags

Your posts should have a minimum of seven hashtags to ensure maximum engagement.

Use captions

Attach captions and double tap it if necessary to increase the amount of likes.

Keep a good profile picture

A profile picture is responsible for creating a first impression on the customers. Thus, it is essential to keep an appealing yet professional profile picture.