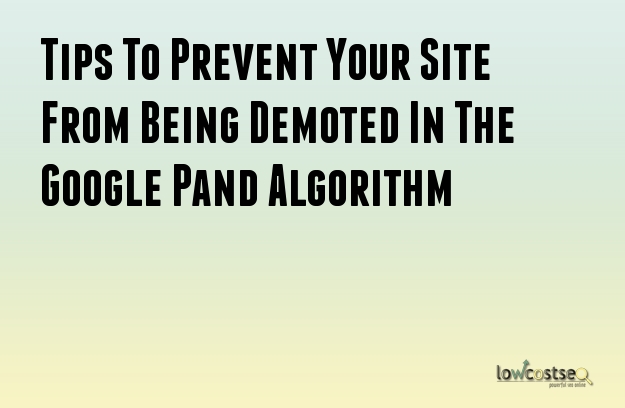 Are you aware of the new update form the Google Panda algorithm? Do you want to save site from being demoted by it in the SEO ranking?

The Google Panda Algorithm was designed in the year 2011 to truncate the low quality content of a website from being displayed in its site results. Google Panda is responsible for affecting the entire website or a section of it rather than just a page. If Google starts supplying the viewers with irrelevant and trivial information then it is going have a disastrous effect on their ad revenue. Here are some tips that will help your site hit the mark.

High quality content

The content of a website should be high quality. High quality content usually refers to the contents that are well-written and containing picture and videos of proper resolution. Content of the website is the one of the important aspect effecting the ranking. It is required to be relevant. Irrelevant topics will only infuriate the viewers. Google ranks those pages higher which have a more information on a particular topic. It should also be unique. The uniqueness of the content will attract more viewers and will increase traffic.

Low quality pages

Make sure that you exclude every low quality pages. The poor quality will only pull your website down the SEO ranking. Viewers also prefer visiting website that have pages which have high quality.

Content duplicity

The contents of your website should in no way be plagiarized. When there is duplicity content the website suffers from ranking and loss of traffic. Search engines rarely show numerous duplicate contents and choose the content that is more original. With duplicate content search engines incur the risk of displaying less relevant details. Hence, it discards websites with such contents.

Domain Authority

Domain authority basically means the power of the domain name. A new website has less popularity than a website with higher authority. It is an effective metric to determine the quality of a site.

Social media involvement

When the site is linked to a social networking site it attracts more traffic. It should have buttons linking it to Facebook. Twitter, LinkedIn and so on. Viewers are frequent on social networking site and if your site is linked to them it will only increase your number of viewers.

User experience

While browsing through your profile the user should have a favorable experience. The navigation through the pages should be hassle free. Make sure to provide navigation buttons.

Keyword stuffing

The content of a website needs keywords for its SEO ranking. However, stuffing too many keywords in a single content will have an adverse effect on the ranking. stuffing the website with keywords can also lead it to be banned. This ban can be either temporary or permanent.

Quality backlinks

Having backlinks from other website to be linked to your own is one of the most effective ways to improve the ranking of your website. However, you should concentrate on acquiring high quality backlinks. This is because there are some backlinks which might improve the ranking at all and there are other that will cause the site to be demoted.