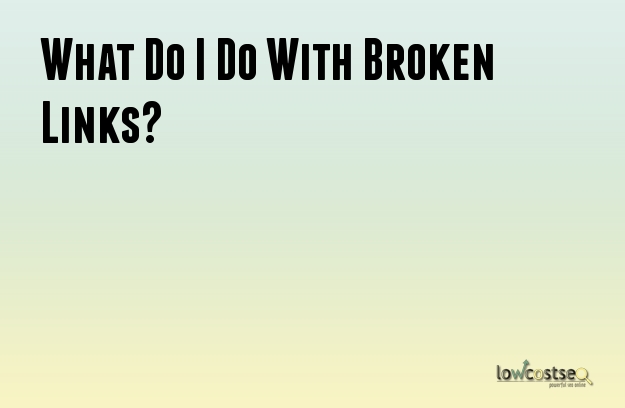 The internet is an ever evolving landscape, so it goes without saying that things change all the time. This is something many an SEO agency has learned to deal with, but it can often be a difficult concept for website owners to handle.
A key part of this is the nature of broken links. Sometimes, you redesign your website and some URLs get adjusted as a result. Sometimes, someone edits links incorrectly. What's important is that fixing existing backlinks is just as important as generating new links. So, what can you do?
Find Those Links!
First of all, you need to find these links. There are many tools available, such as Screaming Frog, which are great for this. You will need some sort of tool (even if its a free online one) as it is impossible to find broken links yourself, unless you want to go through every link that has ever been generated for you.
This is something we recommend doing on a regular basis, whether its once a month or once a year. Similarly, it is also something you can look at if you notice a drop in traffic. It might be a number of important websites have broken the links, thus influencing your rankings.
Redirects
Depending on the nature of the links, you might want to redirect. Where possible, you should always look to have a new link established but there are many situations where this isn't the best course of action, such as:
Large forum posts, where it can be difficult to 'kindly' ask an admin to go into a 4 year old post to change one link
When numerous posts have the same broken link – one redirect is easier to set-up.
When you can't contact or get hold of the people responsible for the linking website.
In all of these cases, a 301 redirect will help. Just make sure to redirect to a page that, where possible, matches the original intended destination. After all, if people do click the link, going to your homepage might not be what they had in mind. Likewise, if the links have anchor text, use this to your advantage with a fitting destination URL.
When to Fix?
However, sometimes it might not be worth fixing a link. If the website has a particularly low authority, you might want to link to it. Similarly, if a website already has numerous links to your website, the added value of one extra link quickly diminishes.
The same can also be said for forums. You may come across broken links from 5 or 6 years ago. Does this forum delete old content at a certain point? Will the admin happily make the changes anyway? These are all questions you need to ask yourself. In time, this will let you instinctively and intuitively know which links to prioritise.
Check And Record
Finally, keep a track of the changes you've made. This way, you can check to see when the redirects work. If you're asking webmasters to change the link, this can let you know how quickly they do so.