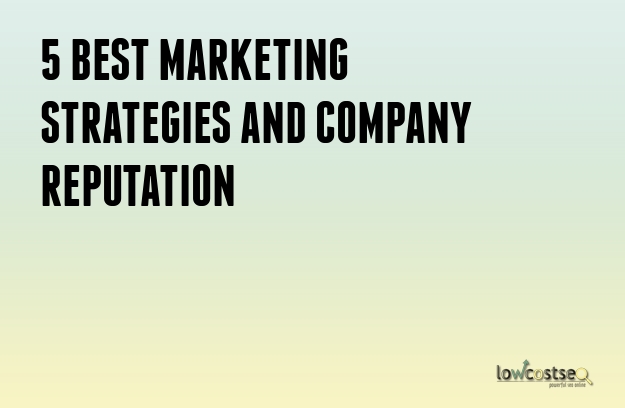 You must have these questions in mind how do marketing strategies affect a company's reputation? And if it is so, then what strategies could be made to increase the reputation of our company. Do not worry, answers to these puzzling questions have been discussed in this article to make it easier to understand marketing.
Let us first discuss the evolution of marketing. Marketing has been used for centuries, but the actual term evolved around the 1940s. The industry began to recognize that solely focusing on their demands often results in dissatisfied customers. Businesses are now using marketing strategies that entail figuring out to meet those demands. Thus, the idea of marketing was created.
Getting an idea, a product, or a service in front of a buying audience is the process of marketing. Marketing focuses on the needs and wants of the client so that businesses may determine who might buy their product and draw those customers to the firm. When establishing any company, we adopt several strategies (plans) to boost its reputation, which leads to user pleasure.
We must first understand the fundamentals of marketing and their significance before moving on to marketing strategies. Now you must be wondering about the 7Ps. Ok, let me explain. It simply includes product, price, promotion, place, people, process, and physical evidence. These elements provide a framework for your marketing strategy.
5 BEST MARKETING STRATEGIES:
Waiting around for a good reputation of a company you should need to make different marketing strategies. A marketing strategyis a series of steps that are intended to boost sales, build a brand, or highlight the value of the product. Its goal is to entice customers and build their interest in the company or its offerings. Companies create different strategies to achieve specific objectives by focusing on them. This can be achieved by consulting digital marketing agencies. These agencies specialize solely in marketing to consumers via digital platforms.
These marketing strategies that you cannot ignore are:
1. SEO (maximize search engine optimization)
2. Influencer marketing (engage influencers)
3. Content marketing (start a blog)
4. Email marketing (build a mailing list)
5. Affiliate marketing
We will now go over each of the marketing strategies described above that have
an impact on a company's reputation.
1. SEO:
SEO is one of the most effective ways to surge audience traffic and brand recognition. Moreover, it helps to increase the ranking of your website in search results for relevant terms. Let us analyze how does SEO work? To find a certain topic users enter keywords or phrases into search engines. Further, a powerful technique to segment and target clients, effective SEO can help a business rank well in search engine results. Despite the usefulness of keywords and phrases, businesses must also produce interesting, helpful content.
2. Influencer Marketing:
It is undeniable that influencers are the tastemakers of the present and the future and collaborating with well-known social media stars is a wonderful approach to increasing brand recognition. This in return, boosts your brand's legitimacy and visibility as its followers already believe their opinions since they follow and engage with them. Influencers who align with the company's target market can help it acquire new clients.
Top influencer marketing platforms include:
Instagram
YouTube
Facebook
Blogs
Twitter
But be careful when choosing your influencers. Avoid targeting public officials that have a large following because it is unlikely, you will connect with them.
3. Content Marketing:
Content has long been king in marketing strategies. Blogs offer information on a website or product page that assists a customer in selecting a product or service or in learning more about it. Organizations may invite guest bloggers who validate value or inform clients. The audience is increased when blog posts are shared on social media or other related platforms.
The following goals of content marketing might be beneficial to your company:
· Enhanced search engine visibility.
· Other websites may link to your content if they consider it useful.
· Respond to the most important concerns and queries that users commonly raise.
· Explain difficult ideas that may be required for users to comprehend your product.
4. Email Marketing:
Direct marketing and digital marketing have both email marketing. Email marketing is an effective marketing channel that uses email to publicize the services offered by your company. However, we can say that this could be broadly defined to encompass any email sent to a client, past or present.
Three primary objectives that email marketing strategies often aim to execute are:
· Creating brand awareness
· Enhance credibility
· Devotion
Further, it includes sending commercials, making business requests, or requesting donations or transactions over email.
5. Affiliate Marketing:
Now we will discuss our last best marketing strategy out of five. Here the question arises of what affiliate marketing is. So, it is nothing but a successful strategy for increasing traffic, sales, and online income. With minimal resources, limited time and effort, and little danger, affiliate marketing enables companies to market products successfully while ensuring a high return on investment, increased brand recognition, and business expansion.
Three parties must coordinate for this to excel in affiliate marketing:
· creators and marketers of the goods.
· the marketer or affiliate.
· the user
BOTTOM LINE:
I must infer from the foregoing that the five techniques mentioned above are equally advantageous for the reputation of your business. Repetition is the key to keeping an eye on your reputation. As a result, monitoring necessitates regular monitoring of what is being stated about your brand. You need to stay connected with your customers and monitor all your strategies equally. Your customers are communicating with you about their wants, dislikes, and favorite products. Now it is up to you to continue giving customers what they want and keeping them interested in your company's success.
So that for which you are waiting? Start fostering your reputation right away!