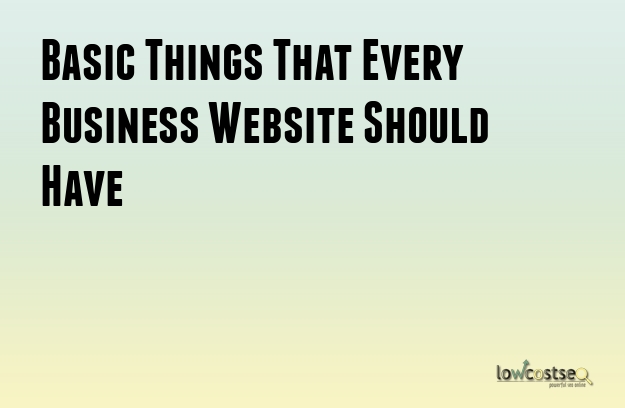 Basic Things That Every Business Website Should Have
Creating a website starts with choosing a hosting and a domain. This is immediately followed by the question of the structure and number of pages. What must a business website content be to work successfully? You should understand this issue before sending the technical task to the programmer. Because to change something later is to pay twice.
Website Tips: Must-Have Things
First, we provide a shortlist of pages and the necessary information to create a site. The final structure and website design that you approve for execution depend, of course, on the specifics of your business. But you can take the following list as a basis.
Domain name.
Home page.
About page.
Blog.
FAQ page.
Contact page.
Services/Products page.
Reviews page.
Sitemap page.
News page.
Privacy policy page.
Terms and conditions page.
Jobs or careers page.
Events page.
Advertising information page.
Let's talk in more detail about each item in particular.
Domain name
A website domain name is like a business name: it should be short, clear, and memorable. So that the user can enter the web address into the browser without confusion. Dashes and numbers only complicate the domain name. Also, avoid complicated wording and double meanings.
Home page
This is your client's meeting place with a business website. The main task of the home page is to be interested and not let the user go.
The home page includes:
a brief description of who you are and what you do;
list of services and products;
customers benefit from working with you.
It is important that the page loads quickly and makes the right impression. You can visit Behance to find the expert who will advise on catchy home page design.
About page
Today there is a demand for personality. People are willing to buy from people. Discover yourself and the whole team, share values, and principles, reveal your strengths and strengths, take an interest in your story. Don't forget to post quality photos for people to see.
Business blog
A blog is a section of a site that consists of thematically related publications. For businesses, this is an effective tool for engaging audiences. Here are some rules for running a business blog:
make a content plan for publications and think about topics in advance;
use SEO tools to optimize the content of your blog. Ahrefs will do;
add original photos, videos, and pictures (resources such as Canva, Movavi, or VSDC will help you create bright content);
update the blog 1-2 times a week;
track site analytics to know which topics interest your readers;
distribute blog posts through the social networks of your business.
According to statistics, about 60% of small businesses are convinced that blogging helps to improve traffic. Don't miss this opportunity for your site.
FAQ page
Questions always arise in doubt. Frequently asked questions from customers are both bottlenecks and growth points for your business.
Collect and analyze the most frequently asked questions by customers.
Prepare honest answers to each of them. With this approach, you will also have ideas for improving individual business processes.
Create a separate page on the business website for questions and answers. This will save you time on individual consultations and close the doubts of potential customers before buying.
Not only answer the questions but also add a call to action. Honest convincing answers are a good reason to make a purchase.
Contact page
Create customer-friendly communication channels. While some people prefer text messaging, others are willing to talk on the phone. This point should be taken into account in the strategy of business promotion and when creating a business website.
What a contact page should contain:
company accounts in social networks;
telephone numbers;
postal address;
email address.
Add a work schedule and contact form to this page. Make all links active so that the customer can immediately write an email or visit your Facebook page.
Services/Products page
A detailed description of products or services requires a separate page. If there are many services or products, divide them into categories and provide links to landing pages. Product descriptions or service descriptions should also attract customers. Use SEO tools to reach your target audience.
Reviews page
The real positive feedback your company has received should be shared on the website. Such things work great in marketing. Ask regular loyal customers to take a short video review or write a few words and add a photo. Do not edit or correct the text, let the authenticity of the original be felt. With the consent of customers, add their contact information. This will give the truth of the reviews in the eyes of readers.
Sitemap page with easy navigation
Sitemap exists in two formats:
XML sitemap for search engines and SEO optimization;
HTML format for website navigation of your customers.
There is one important rule: website navigation for customers should be clear. Everything else plays a secondary role here.
There are many menu options for a business website:
hamburger;
dropdown;
scroll-triggered;
and much more.
But no matter which option you choose, navigation should be simple and intuitive to people.
Briefly about other pages of the site
The latest news page will be needed for press releases about all mentions of your business on external resources. These can be articles in the media, advertising on special platforms, mentions of various events with your participation.
The privacy policy page is mandatory under current law. Here you inform the user about how you will use his personal information (cookies, targeted advertising, email, etc.).
The terms and conditions page is also required by law. The consumer agrees to the rules of use of the site. This is necessary, for example, to protect your intellectual property.
The job and vacancy page will help your HR managers find staff for the company.
An event page is necessary for a business that frequently hosts or participates in events.
The advertising information page allows you to advertise your products and services on your resource.
What is most important for a website?
We have reviewed the main website tips that will help those who are starting to create a new site. If your site already exists but does not benefit the business, then there is a way out. Try to update website design using our tips.
The main thing is to UX-design your business website to meet the needs of the target audience. That is, that all components work in harmony for the convenience of your customer. Only then will your website fulfill its main function — to promote the development of your business.