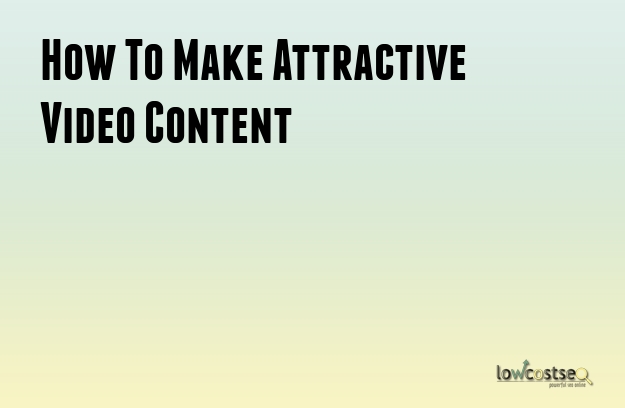 Let's be honest: the days of thoughtless SEO optimization are over. Technical tricks alone will not achieve the result. Today, content marketing is driving.
If the text works to immerse the consumer in the topic, then something else is needed to attract attention. Create viral videos and get the audience's attention.
People watch videos all the time: on the way to work, at lunch, at night before sleeping. People like to share interesting videos. Therefore, by making visual content, you overtake competitors.
Let's talk about how to create attractive video content for your business.
Start with a business promotion strategy
SEO optimization is part of marketing strategy. An SEO specialist researches audience queries with tools such as a keywords planner. The copywriter writes texts for these requests, and the target specialist adjusts advertising. The interests of the target audience are the basis of email marketing and SMM. But one important question remains: how to get the audience's attention. This is where video content comes to the aid of marketers.
The main advantages of video content:
short videos attract the attention of a wide audience;
the number of visits to the site is growing;
video is easily distributed on various platforms.
Take a short video, edit it on a free video editor, upload it to YouTube, post it on the website and share it on social networks.
Everything is ingeniously simple. No wonder YouTube Studio is such a popular resource.
So rule number one is to include video content in your business promotion strategy.
Choose video content types for your audience
You already know that videos increase conversions. Now think about what video will reach your audience. There are quite a lot of options. Check out the most popular types of video content.
Live Streaming (Live Videos)
This creates a sense of live communication: the audience seems to look inside your business. The popularity of such video content is constantly growing.
What can be broadcast in Live Video? Catch a list of ideas:
webinars and seminars;
sports training;
question and answer format;
unpacking video;
video reviews and video tours.
The main rule of live video content: it is not perfect, it is interesting. Do you have a hot topic? Go to the audience with a live video.
Video instructions and tutorials
Many people are visuals. Long and confusing instructions for using the product only tire them. They will be happy to appreciate the video tutorial.
Which video will be useful to your audience:
recipes for cooking;
instructions for assembling furniture;
tool guide;
car engine repair video.
Continue this list. Be useful to your audience with simple, clear videos. Such content requires a script, quality shooting, and a free video editor. The main advantage of tutorials is their durability. And the fact that users are happy to share them on Facebook or Twitter. Sounds great, doesn't it?
Video behind the scenes
Content that demonstrates the internal processes of the brand, sets people up for trust. Humans are curious creatures, so they are happy to watch videos behind the scenes. This is how they immerse themselves in the creative process and corporate culture of the brand. They begin to trust you.
Here are some ideas of what to tell in the video behind the scenes:
show your team;
reveal unique traditions in the company;
announce the creation of new products;
ask customers about your services.
Use our guide to interesting content to prepare a video behind the scenes.
Video Explainer
This video is reminiscent of a short self-presentation of 60 seconds. First, ask yourself a few questions:
What does your product do for the customer?
What audience issues are you solving?
What do people get when they buy your product?
Answer these questions in the video. Such content requires pre-scripting, rehearsals, and video editing.
Video of events
Events are a great occasion to create content. It's as if you're just inviting people to a party while promoting the brand.
Video events require certain resources to prepare and conduct. But it's worth it. If the event is of interest to the public, then your content turns into viral videos. It is very easy to get followers on TikTok this way.
Prepare a video for publication
Write a script and shoot a few takes. If you involve your staff in the video content, allow them to learn to speak in front of the camera. If you are hiring professionals, give them time to delve into the intricacies of your business. Whichever path you choose, many takes will give you enough material for further work.
Watch the video and think again about the next question. Does this video meet the goals of the brand's marketing strategy? If so, move on.
Choose a free video editor that is easy to use. Something like Fastreel, where you can practice video processing.
Don't forget about SEO optimization when preparing a video for publication. A simple thing like the key phrase in the title is important to the search engine.
Do not be lazy to edit. Watch a few takes and create a quality video. Add background music to immerse the viewer in your video.
Finally, there is one more thing to do: evaluate the audience's reaction to your video. What we will talk about next.
Measure the success of your video content
Marketing is based on analytics. Measuring the effectiveness of content is an integral part of a promotion. So you see the disadvantages that need to be corrected and the advantages that you can increase.
The effectiveness of video content is measured by the following metrics.
View count. The rapid growth of the indicator indicates a high interest of the audience.
Click-through. The click-through rate in the call to action shows how well your content works.
Social media shares. A high score indicates the usefulness of your video content to users.
To get these indicators, use the analytical tools of the site and social networks. They are on all popular platforms, for example, Meta Adds.
Conclude analytics and grow in creating quality video content for consumers.
Conclusion
Video content is the most realistic form of communication with consumers. If your business is not yet using this powerful marketing tool, don't procrastinate. It's video time.
Take a look at TikTok, rate Instagram Live, think about your behavior. It is enough to learn to work with video, and new opportunities will open up before your brand. Don't lose them. Take a new level of communication with your brand's audience with video content.