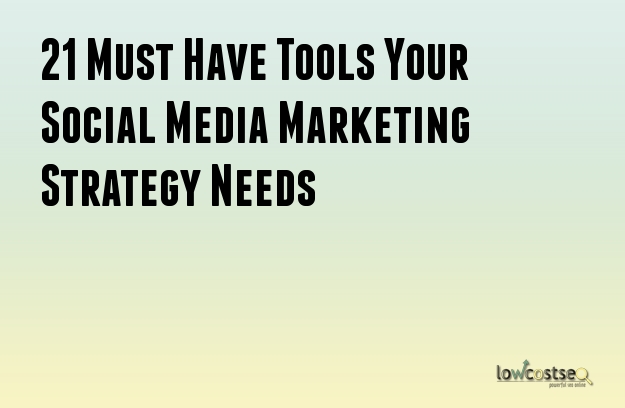 There are a number of tools and devices available for different aspects of social media efforts like knowing your audience, scheduling the content and monitoring the reports on the campaigns. If you want to give a boost to your social media marketing strategy, you can use these tools to ensure sure shot success.
But, with so many different options available it may be tough for you to decide from where to start and what tools to use.
Here is a list of 21 social media tools to solve your dilemma:
Agora Pulse: With Agora Pulse you can create contests, supervise the results and get the reports customized.
Buffer: With this tool you can schedule content to get it published in different social media platforms. You can schedule the posts for each individual network and queue them to be posted at the scheduled time.
Buzzsumo: Keep yourself updated on the latest happenings in your industry. With this tool you will get an idea about your target audience's preferences.
Commun.it: With Commun.it you can check your Twitter activity easily. You can find and connect to your followers to create a consequential relationship.
Co Schedule Headline Analyzer: You can measure the effectiveness of your headline with this tool. With their algorithm, you can test as many headlines as you like and get a score.
Droplr: Droplr makes sharing files, photos, shortened URLs, recordings, screensavers very easy.
Heyo: Heyo helps you create contests on Facebook, optimized landing pages and sweepstakes easily. With Heyo you will get more fans and able to make more sales.
Inkybee: With Inkybee you can search for the top blogs, writers and websites in your field of interest.
King sumo: This WordPress plugin helps in analyzing headlines of blogs and decides which headline is more attractive and can generate more traffic. The tools can test 2-10 headlines at once.
Likeable Local: This tool provides an effective platform for small businesses to manage their media presence.
Likealyzer: Likealyzer will give you an all round review and tips to improve your communication with present or potential fans and clients.
Mention: This tool is simply the best in catching all mentions of your brand. This tool was created as a substitute to Google Alerts.
Over Video: With Over video you can take a video and intensify its message with text overlays.
Pocket: Keep yourself updated with the latest developments in the industry by saving the trending news for later read.
Post Planner: With Post Planner the marketers can develop their marketing strategy. The tools also help in finding the best content for social media posts. It helps in gaining access to the viral posts on Facebook.
Quill engage: This tool connects to Google Analytics and transfers the data to a report.
Relay: With relay you can create beautiful content with the help of predesigned templates.
Social Quant: It helps you connect to people who are interested in your brand.
Sprout Social: With this tool you can schedule content in your account and monitor messages, mentions and replies.
Tailwind: This toll makes content curation, analysis and scheduling very simple.
Dashlane: with Dashlane, you can get your passwords when you need them. With it you can get your logins and passwords in order.