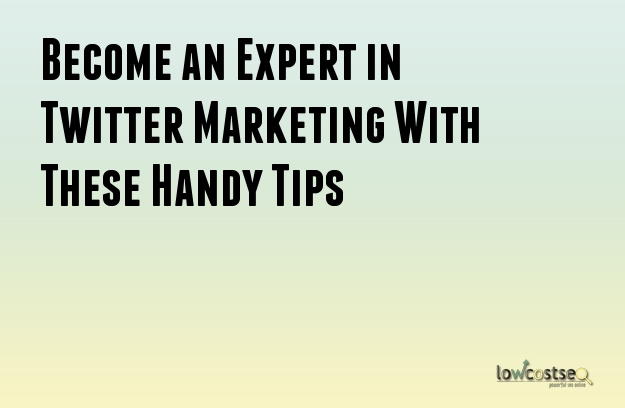 A Twitter marketing strategy is not just about posting a tweet once or twice. In order to make it a resounding success, you will need to make the best use of all the features of this social media network.
There are many ways you can improve your existing Twitter marketing strategy to gain better results. By creating a better strategy, you will be able to bring in more traffic and increase the conversion rates and revenue.
Research
Research is a crucial component of any Twitter marketing strategy. You need to understand what your followers are saying about your business. Go through your mentions to see where you are falling short. At the same time, you need to be aware of the recent trends and new developments happening across your industry niche.
Refer
Do not be afraid to refer with your tweets. You can share links of photos, videos, press releases, products and other similar webpages. By referring the web pages of other people and businesses, you can actually increase the reach of your own company. After all, those people will share your links in return to show their gratitude.
Answer
Twitter can function as an excellent customer service tool. You can ask your followers to speak about their problems by messaging you on Twitter. By replying to these tweets, you are helping your customers. There are many ways you can provide customer care to your consumers on Twitter.
Time
Time is very important in Twitter. If your followers message you in Twitter, you need to reply to them as soon as possible. The majority of Twitter users tend to expect replies within an hour at the most. People tend to expect conversations in real time in Twitter as it is one of the fastest social networks.
At the same time, you need to ensure that you tweet at the correct time. If you tweet during the peak hours, chances are, more of your followers are likely to see in their feed. You need to do a bit of research to find out when the majority of your followers are online. Tweeting at those times will get your more replies and feedback.
Engage and Interact
By interacting with your followers, you are creating a strong bond with them. You can mark the tweets by some of your followers as favorites or retweet them. You can even use the reply option to provide valuable insights or useful comments.
You can use Twitter a good networking tool by following leaders from your industry, people you have worked with in the past, manufacturers and your customers. A strong network can prove to be useful in a variety of ways for your business.
The Tweet
The basis of your entire Twitter marketing strategy will depend on your tweets. You should use the appropriate hashtags and make the most of the 140 character limit.
Twitter can be an incredibly powerful marketing tool if you manage to create a good marketing strategy for it. With the help of the given tips, you will find it easier to make an excellent strategy.