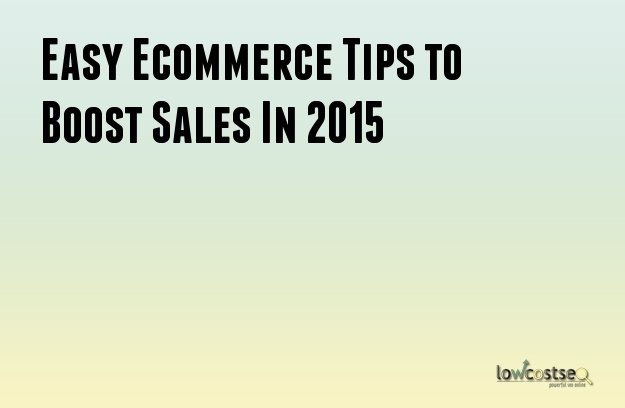 Are you making the best use of the internet for your ecommerce business? The fact is that people will have completed most of their journey by the time they reach your ecommerce website. If you want those prospective customers to stay and make purchases, you need to ensure a few things. You can make use of the following tips to get those sales faster.
Go For Contextual Marketing
Contextual marketing is based on data. You need to gather information about the behaviors, buying context and profile of your potential customers. The data will then allow you to send them personalized content that is relevant to their needs or wants at the correct time or place. This can help you create a goof relationship with the customer which increases the chance of sales.
The data can be garnered from a number of sources. You can ask visitors to your ecommerce website to fill up a form or use other methods of gathering data.
User Generated Content Is More Important
Consumers tend to trust content generated by other users more than the company. This is more common in ecommerce marketing. Consumers view such content to be a more credible and authentic source of information.
User generated content include reviews, ratings, photos and other media uploaded by users. Moreover, reviews and ratings can affect the SEO of the ecommerce website and increase the visibility and sales. Therefore, you need to formulate a strategy which allows your customers to leave behind usable information for the other consumers. Such content can even lead to an increase in the conversion rate.
Use All Devices
The use of the internet is no longer limited to desktops of laptops. Smartphones and tablets are becoming increasingly common. People have begun to use their mobile devices in greater numbers. Therefore, you have to start thinking about these devices for your ecommerce business.
This can include formulating a marketing strategy for all of these devices. More importantly, you should start using a responsive design for your ecommerce website. This will allow your customers to get the same experience while shopping irrespective of the device they are using.
Using the Native Language
This is incredibly important if your ecommerce business serves overseas customers. While you can certainly use English to provide information to everybody, customers tend to feel better if the website is displayed in their native language. Simply adding a new language version of the ecommerce services will be more than enough to get a significant boost for your customer base. Do not forget to localize the websites to get more benefits.
Always Go For A/B Testing
You should never forget to A/B test your ecommerce website. Find out if your customers are enjoying the experience offered by your website. Ask them for recommendations. Then, you can create different versions to test out. Doing so, improves the user experience which in turn is likely to improve conversions significantly.
With the help of these tips, you can help improve your ecommerce business and ensure a good year.