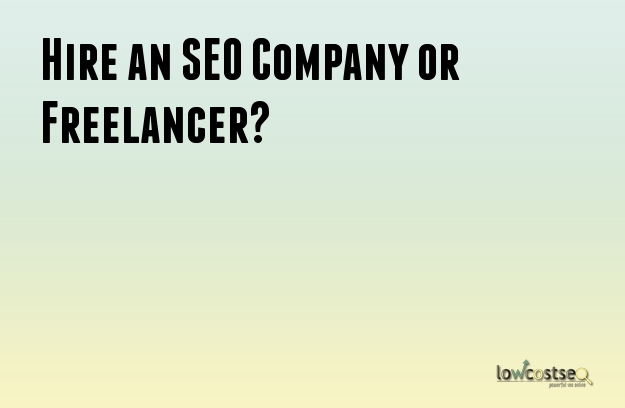 Hire an SEO Company or a SEO Freelancer?
We have seen this question quite a few times around the web with regards to who should you hire to undertake your SEO campaign, whether you should outsource your SEO or hire a freelancer to handle the SEO for you. Firstly one needs to understand that SEO is a broad process that requires managing, tracking, and monitoring of various optimization efforts. SEO is a fundamental requirement for all businesses aiming to increase their web exposure, visibility and rankings. Without SEO it is not possible to get to the top of search engine rankings. Compared to other marketing tools SEO is one of the cheapest and the most productive medium to improve your sales revenue and traffic of your business. We have noticed that many business owners still don't understand the importance of search engine optimization and how it can help in achieving the long term business goals. Many simply want to go for what is cheap without giving a second thought on the quality and whether the results be tangible or not. We do not think a freelancer SEO expert will be good enough to even compete with a professional SEO company. Here are our reasons below:
Why we think it's best to outsource to an SEO Company instead of SEO Freelancer?
With the amount of updates being made to the algorithms of major search engines it has become nearly impossible to keep a track on these changes unless there is a dedicated team to review and monitor these search engine updates on a daily basis. It is highly unlikely that a freelancer will take such an effort to monitor and track these changes on a daily basis. It is easy for an SEO Company to do so as majority of them have a dedicated team in place for this.
A freelancer will be spending most of his time in implementation of SEO strategies or plans for a particular company that hires him/her, whereas an SEO Company will effectively perform the same functions with also focusing on the latest search engine trends. An SEO Company will continuously keep themselves educated about the latest changes and how these will affect their client's websites. We as webmasters at Lowcostseo comprehend the unpredictability of the SEO industry. With the amount of changes taking place we have to constantly be on our toes to make sure our customers are not affected at all. There is no way a freelancer will have such time to study the scope of such volatile search engine trends.
An SEO Company will have a team of SEO experts on-board each specializing in different areas like content writing, directory submissions, on-page optimization etc. All these consultants work together in devising the most appropriate and effective SEO strategy for your business. There is no way a freelancer SEO expert will have experience in all the major areas of SEO.
If you understand SEO then you will know that it involves lots of laborious work on a daily basis such as working on tags, links, reports, keyword research, analysis, etc., while these can all be done by the freelancer but it will surely take much longer time than an SEO Company. An SEO company can probably complete all optimization techniques within a few days whereas for the same tasks a freelancer will take more than a week. If you're someone that wants quick results then am afraid a freelancer will not be able to deliver that.
With the budget they have, freelancers have the most probability in relying on free SEO tools that may not be accurate enough to monitor or track your SEO campaign. It may not be in their budget to subscribe to the highly reliable SEO tools. On the other side, an SEO Company has everything in its provision, from dedicated servers, quality content writers, licensed SEO tools and much more.
Cost – if you're someone who's more concerned about low costs and less results then a freelancer is the right option for you. If you're someone who's more concerned about the return on investment he/she makes in the SEO campaign then an SEO Company is for you. In terms of the time and expertise the SEO company will be better and bring you the results far quickly then a SEO freelancer. As a business, you have to ask yourself if you are interested in short term gains or long term tangible results that will last.
If an SEO freelancer falls ill and is unable to work for a week or so then your SEO campaign also stops for that duration. With an SEO company they have a full team therefore if one individual is taken ill there is always someone else to fill in their responsibilities. The same applies if an SEO freelancer decides to go on a holiday. If I were a business owner, I know who I would be putting my trust on.
Whatever decision you end up taking, it is very important to first understand the basics and principles of Search Engine Optimization and what it can bring to your business. Always look at the long term instead of short term goals. Take into consideration on the return of your investment into an SEO campaign and then weigh the pros and cons of either hiring a SEO freelancer or an SEO Company.