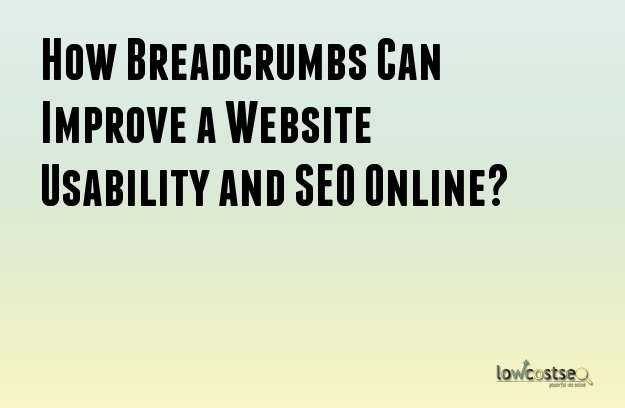 How you place the design elements on the web page is bound to affect the overall user experience. Take the breadcrumb
navigation function for example.
Breadcrumbs are the alternative routes that users can take to navigate around a website. It helps a user by allowing them to understand
the overall website hierarchy while at the same time, helping them to identify their present location. Users can count their way back with
the help of the navigation path led down these breadcrumb functions, thus enhancing customer experience through visual aid.
They are very useful for website in terms of both customer usability and SEO. Look at the points below to understand why
breadcrumbs are as crucial as any design element on a website.
How Breadcrumbs Prove to be Important for Usability
They help users to visualize the current location in relation to the rest of a website
They give users a one-click access to higher levels, reducing the overall time that is otherwise taken via features like the search box and the
deep links
· They take up limited space on a web page
· They help to reduce a website's bounce rate, thus increasing a website's browsing period
· They are easily recognizable by website users
· They help to maintained a fixed consistency between the website software and the design framework
Next you need to understand how it helps the SEO of a website in terms of ranking and delivering an optimized experience.
How Breadcrumbs Prove to be Important for SEO
They enable a natural and an excellent way to relevant keyword placement. This in turn helps in keyword density
· They make it easy for the search engine bots to understand the site map of a website
· They can help in internal link building
· They are given a lot of preference by Google
· The function of website breadcrumbs can be varied. This however, depends on the type of breadcrumb that is incorporated
in a web design.
Types of Breadcrumbs
1. Path-based Breadcrumbs
This type of breadcrumb helps to indicate the path that a user has taken in order to arrive at a current location on a web page.
Users will be able to view the links that they have already visited after entering a website. The Path-based breadcrumb also provides the
functionality of backward and forward navigation. Nevertheless, they are the least popular
navigation functions adopted by most websites.
2. Location-based Breadcrumbs
The location-based breadcrumb helps a user to quickly relocate the current location on a website. They are commonly used for websites that have
two depth levels of content. When a user moves further above a website's hierarchy, they are provided with links leading them to the different
categories or pages.
3. Attribute-based Breadcrumbs
The attribute-based breadcrumbs help to identify the various categories that a user has taken to land up on the current page. For example, if a user is
viewing a category page for cars. Then some of the attributes that he or she would be taken to from thereon are as follows –
Cars> SUV> Black> Year
Breadcrumbs are often overlooked by web developers. However, these are like the little things that can create a major impact to a website's
performance if optimized with full care.
Image Courtesy:
visiture.com