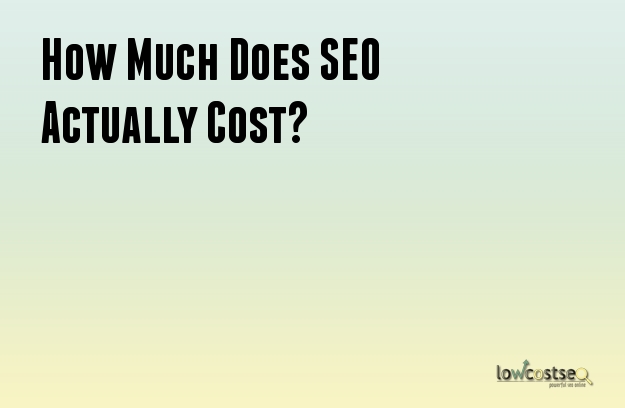 How Much Does SEO Actually Cost?
More and more fresh developers are contemplating on whether to invest a large amount of budget for SEO or not. This decision will eventually become crucial since Search Engine Optimization has been a huge deal when it comes to advertising someone's web page.
But how much does SEO actually cost? There's no certain number than can finalize an answer for this. It's mainly because a variation of subjects are involved. But one of those reasons is reward. When pricing SEO, you must get a good measurement of its geographic purposes. If the result of every click is greater, then that gives it a chance to be more expensive.
It's better to be aware with the simple breakdown and connect the dots after that. Here are some factors that defines the cost of SEO: What, Where, When and Who.
What's your current SEO condition? Is it better from where you started? Determine your numbers to help you get on the right track.

Where do you plan to go? Are you aiming for the top local spot or to be part of the national ranking?

After figuring out your short term goals, decide when you should hit that ranking and how much time is required.

When the first three questions have been answered, who are your investors? How will you get the help you need to improve your SEO ranking?
The answers to those four questions can help the developer educate themselves on their current situation and it can also help them calculate the SEO price. The gap between where you are and what you want to be, including how fast you want to get there, would affect the results greatly.
Note that competitors are also on the go. They are aware of the business competition, which is why betting on a high-quality SEO company makes a good start. SEO ranking is a competitive platform. If you're aiming for low cost SEO, then make sure it's a company that actually does something. Again, it will still depend on what ranking you're aiming for geographically, i.e low end SEOs, they can be cheaper.
In the US, almost 3/10 of companies would invest $2500 per month for SEO services. This shows how most companies greatly invest on a higher cost in return for the services they've asked for. Still, 1 out of 10 companies settle on prices below $500 dollars depending on their current standing and goal.
Another factor that greatly affects your SEO cost is the industry. Your industry's label will be used as a keyword and the calculation will change from time to time. Here are some things to consider before joining the bandwagon:
Keep up with what's happening in the SEO business. Focus on your industry's keyword and analyze what steps should you be carefully taking.

If you think there's more to know, then you're absolutely right. A day of gathering information won't be enough for a long term objective.

Price does not guarantee success if you are not informed about your industry.

Get involved with a powerful SEO service provider. Again, the prices are greatly affected by your motives. If you're aiming to start small, low cost SEO services are a good start.
Most companies are willing to please more clients which makes them settle on what's affordable. Take advantage of these opportunities and see where your site leads you