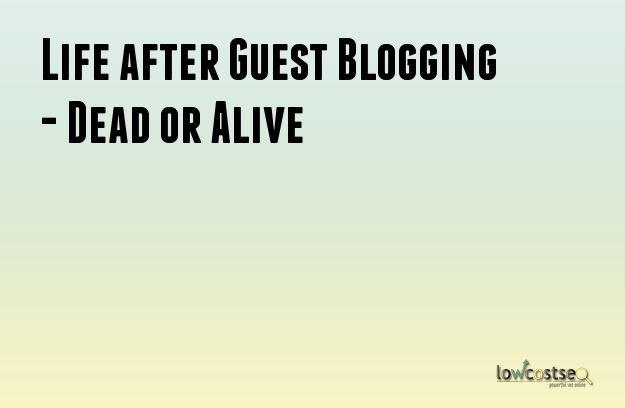 Life after Guest Blogging is de-valued by Google
Guest blogging has been devalued, yes you heard or read it right on here. Also many other scalable methodologies to build links have been affected too such as forum or blog commenting, article marketing or directory submissions. All these sound too cheap in today's internet marketing environment however a decade or so ago, these were some of the most popular ways to rank at the top. So what's the focus now and how do you find other ways to rank your site?
All experienced webmasters are stating that only Content marketing is left as the only safe tactic to implement in marketing. We all know that content is king and uniquely written fresh content will really add value to any website or blog. But will we now see everyone relying on just content to get to the top of search
Link Building Strategies - Google simply does not like us over doing the link building part. Google simply do not like or want anyone to build links but instead want people to build on content. Lately they really like long tail content because this will help Google to improve the relevant results which is their utmost objective from day 1.
There is a new term out there called "Link Earning" – We are all too familiar with the term of Link building but how many of us know or understand the logic behind Link Earning? Links that are earned from the content on your site are very effective and highly regarded too. Now you must be wondering how to build effective links via content marketing.
Content should be the core of the marketing strategy for your business. Before you begin creating links, think about writing effective content. Once the content part is done, try getting it on social media and begin engaging with your audience. This content will be as a form of an asset which will be placed in front of an online social community or audience that can share or like the content as naturally as possible. This will all result in genuine likes and shares towards great content.
Social Engagement
Once you have the content you can use Facebook ads to target the market that is more likely looking or already likes your product. Facebook offers advanced levels of targeted marketing capabilities that can easily augment your content's exposure. Other social platforms such as Twitter, Reddit are equally effective too in their own ways. Oh wait…do not forget Google Plus! Google has clearly stated that it is and will be continuing to use social signals as way to rank a site too. If you notice, there are many Google plus pages that are already ranking in Google and this upward trend is likely to continue even stronger. As we need authority links for link building, we also need solid social authority too in order to get your site's content published across the web.
Guess Blogging – Dead or Alive?
We do not contradict Google's head of spam as no one really well and truly understands how Google exactly works. What we can do is make presumption based on the audit of certain factors. One thing for sure that is dead is what we call Footprint link building, if most of your links are from guest posts then your site will surely get penalized. Also if too many of your link ratios develop a footprint that too denotes an unsafe link building campaign which will or can lead to manual penalties. All in all, we say that anything of too much is an issue therefore balance your link building and SEO campaign. If you use Guest posting as a small part then it will do no harm at all. Just make sure that your link profile is clean so that you stay clear from Google's penalties.