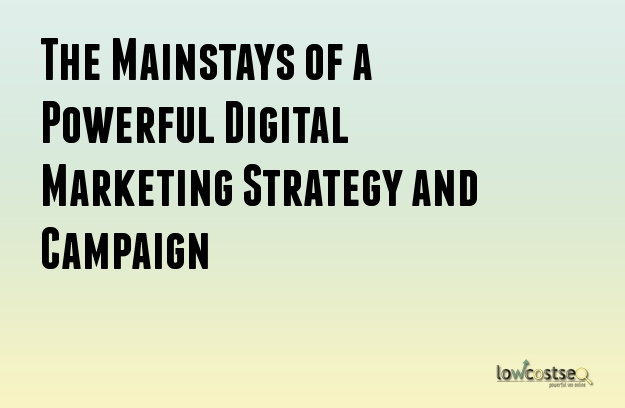 Digital marketing provides a cost-effective solution for companies who are reluctant or unable to invest heavily in their marketing activities. In fact, digital marketing can be quite a powerful tool for all companies in the digital age. This tactic can deliver the results which companies are searching for without exceeding their costs by any significant margin. At the same time, it can bring in better revenue growth.
In spite of the advantages of digital marketing, the fact is that you need to build up a proper strategy for it. Otherwise, it will not be possible to achieve the results you are hoping for. In order to do so, you need to understand the pillars on which a strong digital marketing strategy is built.
Market Research
These days, consumers have greater freedom to choose between their buying options. Most consumers will research a brand with the digital channels at their disposal before following it up with a purchase. As a result, you need to start connecting and engaging with your customers if you want a successful digital marketing campaign. In order to do so, you need to first research the market. This is how you can do it.
· Identify the services or products that need to be promoted.
· Identify the USP for them.
· Determine the target market.
· Determine what should the objectives and goals of the campaign. Some possible options are lead generation, increasing awareness or generating sales.
Marketing Strategy
There are multiple avenues available for conducting a digital marketing campaign. You need to determine which one is the best one for your needs so that you can proceed accordingly. Of course, using multiple strategies can prove to be more beneficial for the overall marketing campaign. Here are some of them.
SEO: Search engine optimization is the most popular choice. It has become more of a necessity rather than an option when you want a powerful digital marketing strategy.
Social Media Marketing: In this process, social media networks are used to generate brand awareness. Social media sites also improve conversation and engagement about the brand and its products. Brands are able to connect with their target audience as well.
Pay Per Click Marketing: PPC marketing make use of Google AdWords and other PPC networks to reach out to customers who have shown an interest or need for the products or services being offered by the brand. This tactic delivers highly targeted potential customers in a short period of time.
Marketing Implementation
Once you have developed a strategy, you need to start implementing in the correct fashion so as to generate the results you desire. Here are some of the things you need to take care of during the implementation phase.
· Keyword Research
· Creation of Content
· Link Building
· Social Media Marketing
· PPC Marketing