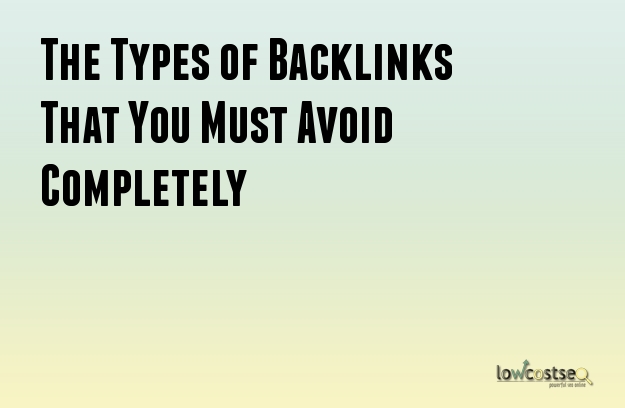 Backlinks are one of the most important components of any good SEO campaign. However, not all backlinks can be considered to be good for your website. There are certain types of backlinks that must be avoided completely as those backlinks go against the guidelines laid down by Google. They can end up making your website vulnerable to a penalty or actually fetch you one.


Understanding these bad types of backlinks is a must for SEO success. Here are some of them that you must be aware of.

Blog Network Backlinks

Since 2013, Google has been penalizing blog networks along with websites that have these backlinks. As a result, you need to make sure that no link from any blog network has managed to find a place in your backlink profile.

Link Exchanges

It has been many years since link exchanges were banned by Google. It was once a very common method of getting links. Now, doing so can get your website penalized. It will not be a problem if you have sent a few links to friendly websites. However, if you have done so with hundreds of websites, it can be a major problem.

Dofollow Backlinks That Are Paid

You must always make it a point never to pay for your links as they are considered to be unnatural by Google. If you have sponsored backlinks make sure that they have a 'rel nofollow' instead of 'dofollow'. This is applicable to both text and image links.

Hacking Websites to Hide Links

In blackhat SEO, unscrupulous people end up hacking other websites and adding a backlink in JavaScript and CSS. This is something that you must actively avoid as it is the worst thing possible for your backlink profile. Search engine bots are very advanced now and they can recognize these things.

Advertorials

You may be using sponsored posts on your websites. Of course, these posts tend to contain backlinks. However, you must make sure that these links are of the 'nofollow' type. Google will consider 'dofollow' backlinks to be in violation of their guidelines if used for these posts. Some important websites including news sites have been penalized for this reason.

Anchor Texts That Have Been Over Optimized

You must make sure that you do not use the same anchor text to build your backlinks. This looks as if your website has been over optimized leading to a penalty. This is applicable irrespective of the origin of those links. Instead of over optimizing, you should ensure that the profile looks natural by implementing variety.

Irrelevant Backlinks

Relevancy is a vital condition when you are creating a backlink profile for your website. You must always make sure the backlinks are relevant to your website or niche. Links from clothing websites are not relevant when you sell food products. Even language should be a consideration. Your English website should not have hundreds of links from websites with Italian or Spanish content. Google's algorithms are advanced enough to determine the relevancy of these links. As a result, irrelevant links are bound to be penalized.