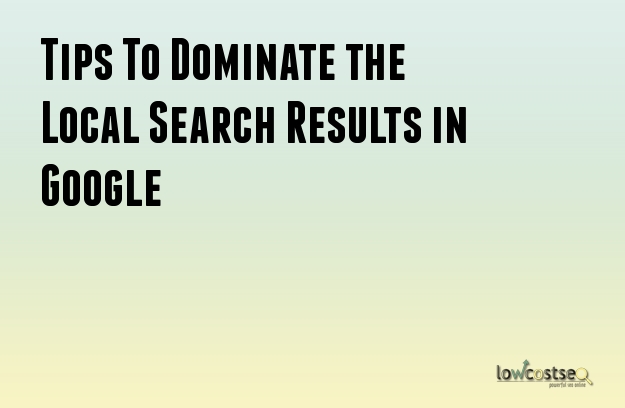 So you are running a small business which you know should be popular with the local consumers. There are many services and businesses that need to be located as close as possible to the customer. Otherwise, you are going to lose a lot of business. The fact is that most people tend to search for these services online nowadays. If you do not get your website listed on search results pages, you will never be able to attract a lot of customers.
The question is how you can get ranked higher on a local search result. Thankfully, there are certain tips you can take into account while optimizing your website. These are all off-page SEO tactics to help get your website a better rank in the results pages.
Google Places
Google Places can help you create an online profile for your business.
The profile for your business in Google Places should be complete and thoroughly optimized as a business listing.
Ensure that the profile has all the necessary details including your company logo. Add a bio to provide a background to your customers.
The services mentioned should have enough keywords that people use to search for your business.
Add links that direct the customer to your website.
Local Listings
Google Places is not the only business portal out there.
All possible local listings should be claimed for your business. This will include Yelp, Foursquare and Bing Places amongst others.
Social Networks
It is easy to create a profile for your business on the different social networks but the benefits they bring are immense.
Create a profile in all the major social networks for your business.
These profiles should have all the necessary information about your business such as name and address.
Add a link to your website.
Local Directories
There are bound to be local business directories for your area in the web.
Register your business on the important directories along with the leading forums. It will help your business get noticed by the customers as well.
The NAPs of your business should be consistent for all listings.
Local Press
Customers will notice that the local news media such as newspapers are carrying your name. This builds up the reputation of your business.
Organize events in your area or start sponsoring them. Then mention these events on your website and promote them.
Try to get the local press to mention you in their news.
You can invite bloggers to write about these events.
NAP Check
The name, address and phone numbers of your business are important details. A single mistake can confuse a robot and hamper all your SEO efforts.
The NAPs should be thoroughly checked wherever you have mentioned them. They should always be consistent.
Reviews
After availing of your services, people are likely to go online and leave reviews about your business.
Encourage your satisfied customers to leave reviews about your business on the different forums that you are listed in.
Check the forums for the reviews regularly and reply to them.
Getting listed in local searches is a powerful way to boost your small business.
Are you anxious as to how site may appear in the local SEO? Are you aware of the quality of your local SEO? Do you know how your site looks when you people try to look for your products or services in the city or town you function in?

Google's new algorithm makes it clear that it wants to serve its people better. This shows that SEO is an important factor in regards to online marketing strategy. If you want to improve your local SEO then here are some guidelines for you.

Factors effecting your local ranking in SEO

Title Tag: You should provide a title tag on your landing page. You should take care to mention the name of the state and city in your title tag. This is one of the most important ranking factors. Like for example, if you are producing some components in Australia then you should make sure that the Australia is mentioned in the title tag, landing page and homepage.

Domain Authority: There are several metrics to determine the domain authority of a website. More the domain authority more is the traffic of your website. To enhance the domain authority of your website you need to remove all sorts of bad links and increase the number of good links in your website. The internal linking of the website should be made strong. You can also secure an idea about the domain authority of your competitors.

Page Authority of Individual URL: There is a certain metric that decides the ranking of a particular URL in the search engines. If you want to target a particular keyword then page authority is the thing you should work on. When you provide a particular service mentioning it within the website will improve the authority of the page.

Quality of Links and Authorities: The quality of inbound links that point towards your domain name is one of the important factors that affect the local ranking of a website. Links which are good for your website are generally those links that are connected to high quality website. Quality links should also relevant to your industry. You need to get as many quality links as possible directing to your website. The links that link to individual pages of your website should also be of good quality.

Page load time: The page load time of the site is an important ranking factor. Optimize the site. You should look into the factor whether your site is using a local ranking factor. If so then shift to different hosting. Then measure the performance of your website again.

Citations: You should provide citations of your business on your website. The name, address and phone number enables you to establish yourself as a trustworthy website. Your business will outrun others if you provide several high quality citations.

Product or Service in URL: If the needed keywords are not available then you can change the name of your business and create another page for mentioning the products and services you offer. Create a separate page if you want target the audience towards a specific product.

Location in H1/H2 tags: You need to mention the location in the landing page as well. This will increase the traffic of your website.