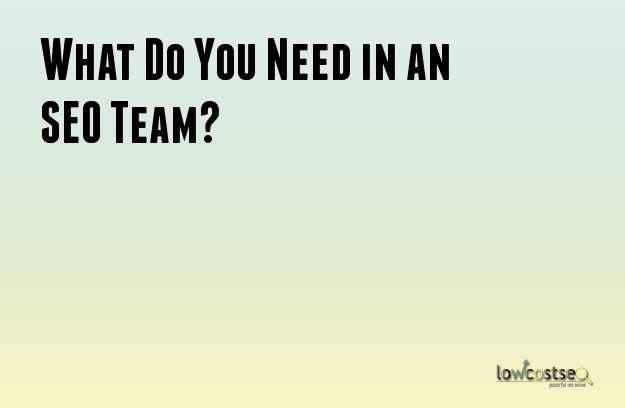 Ever thought about creating your own SEO team? You might have heard from your co-business owners or read from blogs that it is the most efficient way to advertise online. That could be true. But are you aware of the components of a working SEO team?
Building an in-house team from scratch requires a lot of work. Let's not forget the budget you need to allow for compensation and tools as well. In this article, let's assume that your budget is already covered and focus on the functions of an SEO team.
The Manager
If you're too busy running the business, then it's time to hire someone to lead. The manager shall be able to develop realistic goals and have in-depth knowledge when it comes to SEO. Although the manager will possibly have a team working on other aspects (such as link building and optimization,) he/she will be effective if he can identify everything that needs to be done in the team. And of course, as a leader, he/she must have the required leadership skills to keep the team running and toxic-free.
The Designer and the Content Creator
They are the ones assigned to keep the site visitor-friendly. Sometimes they work as one but in other cases, they are separately done. Every website needs a unique content in order for the technical SEO to work. These contents can be in the form of a video or blogs that pulls more visitors in a site and turn them into clients. And then the designers can work on their magic to make the page appealing and professional-looking.
The Data Analyzer and Technical Experts
There's a lot of research required before the team, or for the manager to come up with a plausible strategy. The data analyzers shall be able to guarantee that the results of their research are accurate and useful for search engine optimization. Some data analyzers also work as technical experts as they can identify SEO flaws that can potentially harm the site.
The Web Developers
They keep your site updated to rank well in search engines and provide the great user experience. To do this, they must keep the site speed fast and be able to modify the site according to search engine standards.
The Link Builders
These people are the ones pursuing other sites in order to earn links that can strengthen the site's quality. You can hire a freelancer who plays by the rules or outsource a team.
The Social Media and Email Marketers
SEO may take months before we start seeing results. While waiting, we can involve a separate team that can reach out to customers in other advertising platforms.
Some business owners prefer to build an in-house team as it is easily controlled. While some are eager to find the best SEO firm that can guarantee fast results at the end of their contracts. In choosing which type works well, you can start identifying which people excel in the following functions and find out if you already have a team in your company, waiting for the green light.