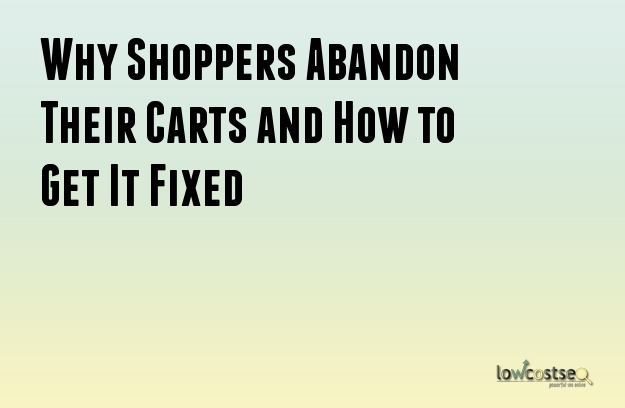 Are your shoppers abandoning their cart? In fact, it is one of the biggest issues in running a successful ecommerce website. On an average 32% of your average income per month is lost thanks to cart abandonment. In order to make your business a success, you need to start implementing steps so that your visitors complete the purchase.
Why Do People Abandon Their Shopping Carts?
The factors that cause people to leave their shopping carts in the middle of the purchase can be either under your control or not. They have been given below.
Factors That Are Beyond Your Control
Some people indulge in the digital version of window shopping. In other words, they are only interested in browsing the products rather than purchasing them.
People will leave if they get a better price in some other place.
Time restraints can force your customers to leave in the middle of shopping.
Some people decide not to make the purchase at the last moment.
In order to combat these issues, you can always send a follow-up email. Use content or offer discounts to get them back to the purchase.
Factors That You Can Control and Their Solutions
Carts will be abandoned if the customers get an unexpected price. Therefore, ensure that all costs are mentioned upfront.
Higher shipping costs are a deal breaker. Offer free shipping or reduce the amount so that the people complete the purchase.
Expensive prices are another issue. Try to reduce the prices and match it to the competitor's. Do not forget to run tests on price points.
A complicated navigation for your website is bound to frustrate buyers. You should opt for a simpler navigation system that improves the user experience.
Sometimes, the customers are prevented from purchasing because your website crashed. You should always invest in a quality hosting service that offers a reliable server and platform.
Unavailability of shipping information can raise doubts about your business causing the customer to leave the purchase. Therefore, ensure that the shipping information is detailed and correct.
Customers do not have the time to sit and complete an elongated process to purchase the products. Therefore, reduce the number of steps required and simplify it.
Too many security checks can irritate the customer. Such checks need to be reduced. Keep only the most essential steps.
Payment security is a big issue for customers in ecommerce. You should put their concerns to rest by getting your website verified by a trust agency such as Verisign. Display the badge prominently.
Website timeout can prevent your customers from completing their purchase. Check if the bandwidth of your server matches your traffic. Ask the hosting service to increase it if necessary.
In some cases, the payment is declined which means the customers are unable to complete their purchases. Therefore, hire a payment provider that is reliable.
Most of the factors behind cart abandonment are actually under your control. Therefore, you can take the necessary steps to reclaim the income that you were losing. Find out the problems being faced by your shoppers and take the necessary steps.