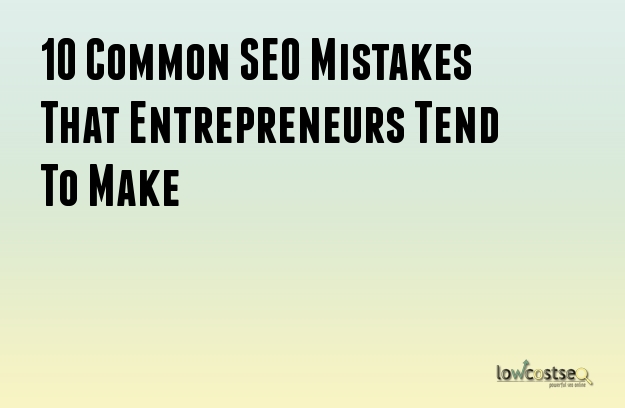 Can your customers find you easily through search engines? If the customers are unable to find you easily on the web, you will not get substantial customers. Moreover, information about your company will not be available to your target customers. To be successful with your online business, you need to have a good visibility on the Internet. And, for that there are certain things that you can do. Doing SEO is not all; you need to do it correctly too. While doing SEO for a website, there are certain common mistakes that people tend to make. Given below is a list of a few of the most common SEO mistakes that entrepreneurs tend to make:
Not using using analytics: Today, the behavior of the search engines has changed. Now, it's more about getting quality traffic than quantity. Getting massive free traffic to the website with a particular keyword is not the main aim. It is all about converting a maximum number of traffic to customers. Remember, there are times when lower-traffic phrases will convert better than the others. This happens because they are more specific and getting rankings for several of such key phrases is important for your business. This is because they are more specific and can drive in more sales. And, how do you know which keyword is driving in more traffic? Of course through Analytics report. Through different analytics packages you can track keyword phrases and compare them to see which one is producing better results. Thus,you can concentrate your focus on one or two keywords and be easy on the others.
Optimize for local search too: Many a times the entrepreneurs focus on getting global visitors to their sites and stop focusing on local optimization. You should not make the same mistake. Optimize your website for local search too. There are loads of benefits of optimizing your website for local searches. That is the reason you should optimize for region-specific keywords. Include your local phone numbers and addresses while optimizing a website. You can also get your website listed on local directories and review networks.
Not having unique title and meta tags and descriptions: Every page of your website should have an unique title and description. There are websites that have the company's name and title as tags for all the pages of the websites. It is a damaging mistake that most of the companies are making. You should not make the same mistake. Not just for SEO benefits unique title tags and meta descriptions are beneficial when your page information is shared on other sites like Twitter and when your company information is bookmarked. That is the reason why you should use unique, descriptive titles.
Mostly the anchor texts are not used for internal links: Links in the body of the webpage that say, "click here" or "enter here" are not helpful. So, the anchor text should be something useful. You must link the other pages of the website with hyperlinks with interesting and useful words or phrases.
These are a few of the mistakes that you mustn't make while optimizing your website. Avoiding this will not just help your website to gain good ranks in search engines, but, will also help your site to get popular with potential customers.