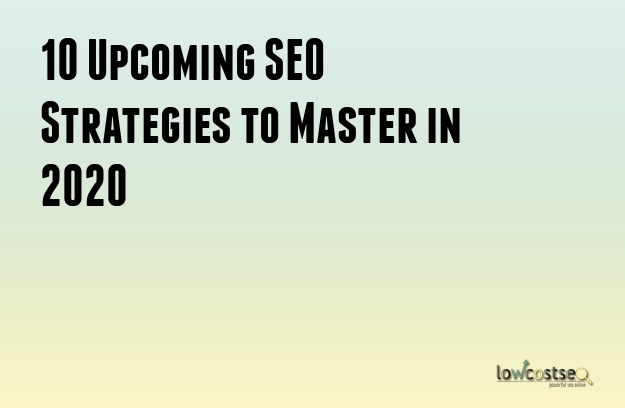 10 Upcoming SEO Strategies to Master in 2020
The entire world economy has been upturned by the COVID-19 pandemic, and digital marketing has become a crucial aspect in the success of both small and big businesses. It is all the more important to invest in online marketing strategies, not just to stay afloat in this critical period, but to prepare as well for what's going to happen in the future.
With foot traffic limited and most business places closed, traditional marketing techniques will no longer work. You can no longer give away brochures or advertise on TV hoping that customers will flock to your store or office. Now, the playing field has shifted online. All transactions are done via the internet -- whether you like or not and whether you're prepared for it or not.
This pandemic has also highlighted the importance of having long-term marketing strategies in place. Most companies believe that investing in marketing campaigns that deliver fast and huge results will provide the best value for their budget. But what marketers and business owners don't realize is that slow and long-term strategies are also important.
Businesses who have invested in slow and steady digital marketing strategies, such as search engine optimization or SEO, are now reaping the fruits of their labor. Why? Because they are the ones who have built a solid online presence, because their products are the first you see when you do a Google search, and their websites frequently pop up in the SERPs. When most businesses are slowing down, they're on a hype.
If you want to catch up on your SEO efforts to combat the effects of the COVID-19 pandemic and the upcoming global depression, here is your chance. It is never too late to optimize your business. The result is not instant, but at least you'll have something to fall back on during "abnormal" circumstances. Plus, the effect of the COVID-19 virus won't go away even after a vaccine has been developed, so you might as well prepare now for the future.
To start with, here are some of the upcoming strategies you need to familiarize yourself with to level up your marketing game:
SEO Trend #1: Snippets will be more important than SERPs.
Being number 1 on the SERPs is one of the best things you can achieve when doing SEO. But being number one no longer means being on top of the world —or at least the SERPs. That's because of Featured Snippets.
Over the years, Google has reinvented itself in a bid to provide better search experience for internet users. And the result of this effort is the Featured Snippets. They appear on top of the number one organic result, usually referred to as Position 0.
So if you want to tale that spot and deliver more clicks to your website, the easiest way is to provide clear and concise answers to commonly asked questions on your site. Featured Snippets are evaluated according to their quality, which only Google has a way of analyzing. Did you know that 54.68% of clicks from Google are from Featured Snippets? That should be enough motivation for you.
SEO Trend #2: Work with influencers.
People no longer like looking at intrusive ads and they are now looking for information they can trust, along with authentic reviews. Hence the popularity of influencer marketing. People feel more confident engaging with a respected and well-known person than with a pesky ad. This is why marketers and businesses are increasing their budget in influencer marketing.
You might be wondering where SEO fits into this. Well, working with an influencer can help you boost your content reach and drive even more traffic to your website. They are also great for building valuable backlinks. We all know that backlinks are one of the most crucial factors that Google looks at when evaluating a web page's ranking. Working with an influencer not only improves brand awareness, but it also generates leads and increases your search engine rankings.
SEO Trend #3: Make your website secure.
Website user experience is another Google ranking factor that every marketer should consider. If a user doesn't feel secure visiting your website, then they would most likely leave your website quickly, leading to bad bounce rates. If the users see the Not Secure message appear, most of them would not even proceed to your page. As a result, your bounce rate would be high, and it would tell Google that there is something wrong with your website that makes people want to leave immediately. This would affect the ranking of that page in the organic search listing.
So to give your users a sense of security when visiting your website, make sure to enable HTTPS protocol. HTTPS provides users a secure connection through encryption and authentication. According to Google itself, HTTPS deters intruders and prevents them from tampering with the communication between your web page and the user's browser.
Also, if you're gathering data from your users, let them know what you're doing with their data and assure them that you're going to protect their privacy.
SEO Trend #4: Optimize for voice search.
You've probably used Siri, Alexa, Cortana, and other voice assistants to search online or complete tasks on your mobile device. What you're actually doing is called voice search, a new trend that's going to reshape the SEO industry in the future. Instead of typing keywords, you speak them out. Then Google, or whatever search engine your device is using, will come up with the search results. The great thing about this is that it can be used by all ages. Kids, who don't know how to type yet, just speak out what videos they want to watch on YouTube, while elderly people are able to shop for their needs by using voice commands.
To optimize for voice search, you need to think about how you speak. Instead of using phrases or long-tail keywords, optimize your page for questions. For example, what kind of pizza does S&R offer? Or: what type of dog food is best for Rott?
SEO Trend #5: Your ranking will depend a lot on your mobile UX.
This 2020, everything is about mobile. That's because most people do their searches mainly on mobile devices instead of laptops and computers. If you do not have a mobile version of your website, you might lose most of your visitors in the near future. Mobile websites on mobile devices make it easier for people to get the information they need and find the answer to their questions. It is also a great platform to entertain your users.
Recent studies reveal the most consumers conduct local searches on their mobile devices. Hence, it is a must for every website to have a mobile version that would be able to reach the most number of people who would be interested in your product.
SEO Trend #6: It's all about videos.
Although text is obviously important, you can't ignore the fact that more people are turning to video as a source of information. Instead of reading pages and pages of text, users are more inclined to watch videos with the same information instead. Internet users, particularly the younger ones, prefer to get information through online videos, whether it's tutorials, live videos, product reviews, and others. That's why you should have a creative video marketing strategy in place.
Aside from being fun, informative, and entertaining, your videos should be optimized for search users. Use keywords in the title and descriptions, and make your headline attention-grabbing to be able to reach the most number of people who are interested in your content.
SEO Trend #7: Improve your website speed.
We've mentioned earlier that Google is working on providing better search experiences for internet users, and one of the ranking factors it considers is the page or website loading speed. Open a browser and type in the URL of your website. Count the seconds before the page is entirely loaded. How many seconds did it take? Consider this: a one-second delay in page load time can cause a huge loss for your business. It can cause up to a 7% drop in conversion rate.
No matter how good or entertaining your content is, it would be useless if the users leave your website because it is not loading fast enough. To improve your website loading speed, consider optimizing your images and videos. They must be small enough not to affect the loading speed and big enough to provide quality content for the user. There are a lot of photo editing apps that allow you to cut down the size while maintaining the quality of your images. You should also invest in faster web hosting.
SEO Trend #8: The Knowledge Panel will play an important role in building up your brand.
Although the Knowledge Graph was introduced way back in 2017, it is only recently that marketers have realized its potential. As a core part of the search matrix, the Knowledge Panel is closely related to the Featured Snippets and rich results. Google has also began to allow individuals, organizations, and businesses to claim their own Knowledge Panel, allowing them to edit and control the information being shown there. They can also request to modify some elements, such as social profiles, panel title, and featured image.
Claiming your knowledge graph helps boost your trust ratings and authority. It also allows you to manage what kind of information you want to show to the users. Although Google has started allowing brands to claim their Knowledge Panel last year, a lot of businesses and organizations are still not aware of how to do this.
To claim your Knowledge Panel, follow these steps:
Make sure that your website is verified with Search Console.
Make changes to your panel by suggesting a change to Google.
SEO Trend #9: Prepare for visual image search.
Although Google Lens, the biggest change to image search, was released in 2018, visual search did not have huge developments over the years, until last year. John Mueller, while speaking at a Webmaster Meetup in New York, mentioned that major changes in image search should be expected this year. Instead of just viewing image, users will soon be able to use it to buy products, learn more information, and do a lot more. Recently, Google has included visual image search results in the SERPs without clicking the Image tab. This means that Google is already gearing towards making this leap with image search.
So if you haven't optimized and marked your images, now is the time to start doing so. Don't wait for the update to be rolled out before adding metadata and tags to your images.
SEO Trend #10: E-A-T matters, but not for everyone.
For the record, E-A-T (Expertise, Authoritativeness, Trustworthiness) is not a ranking factor. And it doesn't apply to every website. If your website's topic is not Your Money or Your Life (YMYL), which means that it can contribute to someone's future happiness, financial stability, health, and safety, then E-A-T is not considered important.
If your website is only about your collection of pictures of your dog or cat, and does not have a significant impact on other people's lives, then you don't need to worry about building up your expertise or authority. But if your brand can affect the lives of your visitors or users, then showcasing your authority is important.
Summary
Investing in SEO in these troubled times is probably one of the best business decisions you will ever make. However, optimizing for the search engines means moving away from traditional strategies and focusing more on intelligent and user-centric campaigns. Whether you're an old hand or a greenhorn in SEO, knowing the strategies above should help you optimize your website effectively.