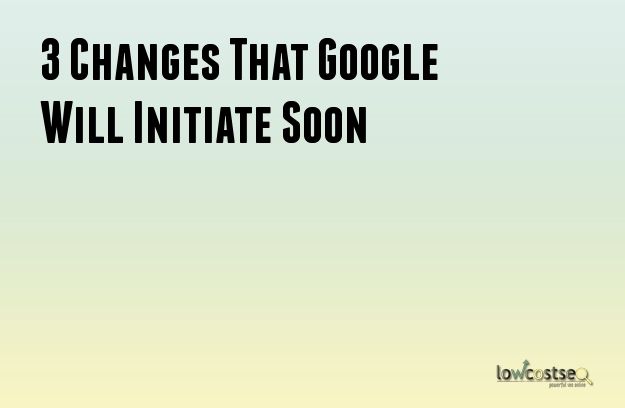 Google is constantly making changes to their search algorithms. Most of these changes are barely noticeable, but sometimes the changes can have a huge effect on the rankings of websites.
Here at Lowcostseo, we stay up to date with Google algorithms changes. You can rest assured that when you hire us we will ensure that you website is optimized for all of the new changes that Google implements.
Here are 3 changes that we believe Google will initiate soon. They've been a long time coming and we would be shocked if Google doesn't implement these changes eventually.
1. Reduction in anchor text value
Google has realized the anchor text is usually used in spammy ways. People that are trying to boost their website ranking are much more likely to use the keyword in the anchor text, while natural links are more likely to link to it with words like "click here."
Since Google is always trying to weed out spammy SEO tactics, we wouldn't be surprised if anchor text soon becomes nearly obsolete. In the meantime, feel free to continue using anchor text but don't be surprised if it soon becomes useless.
2. 302 redirects
302 redirects have commonly been used when a website is moving articles to a different permalink. However, they have become outdated, and it wouldn't surprise us if Google stopped honoring them.
If you are looking to redirect a page, use a 301 redirect. A 301 redirect is modern and won't be outdated anytime soon while 302 redirects seem to be going the way of the dinosaur.
3. Social Media
It seems logical that social media should affect the search engine rankings. After all when people "like" or "tweet" something it's an indication that the content is valuable. We recommend using social media, but as of right now, there is no definite proof that Google factors it into their rankings.
We expect that to change soon. We bet that Google will start looking at how popular an article or website is on social media and factoring that aspect into their rankings. This is why we always recommend attempting to get the best social media presence possible. Social media will likely have a significant effect on search engine rankings in the future.
In order to ensure that your website doesn't go down in ranking, it's vital that you understand the changes that Google makes to its algorithm. Luckily, here at Lowcostseo we are passionate about optimizing all of our website for potential future changes in SEO so you can rank well for your keywords indefinitely. Contact us today and let our SEO experts help you get your website to the top of the search engines.