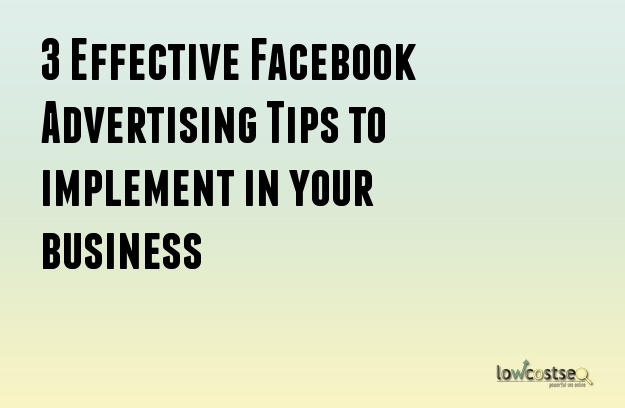 Facebook is simply massive and can't be ignored! With over a billion users visiting monthly, Facebook is an excellent avenue for social media marketing. But the increasing diversity of this network makes it difficult for a business to leave an impact over the targeted users. Unless, there is use of creativity, right set of skills and strategies, gaining full benefit from Facebook is not very possible.
Below are some of the Facebook marketing and advertising tips that can help you boost the performance of your business. The facebook tips you learn here will help you understand the various benefits of using facebook ad formats and will teach you how to choose the campaign objectives.
Keep your page up to date and appealing to take advantage of Facebook ads
Maintaining credibility of your business is just as important as advertising your business. Many businesses give a lot of focus on Facebook ads and overlook their own pages. Page updates are fundamental as the clicks generated via ads. It helps to do successful marketing using social media networks.
Ads work great when they are coupled with proper timeline. Social media is actually about engaging people and perfect ads on a page attract attention of the people and keep them interested.
Put creative rotation into play.
Through continuous A/B testing during creative rotation, one can achieve better performance to the site. A/B testing is a way to test multiple landing pages, ad copies, and pictures against each other. By using this technique along with the newsfeed, it is possible to refresh messages, increase CTR (click through rate), and keep up the impression of page. So if you intend to boost your campaigns rapidly then make use of this facebook effort. Set a system for steadily refreshing advertising messages.
Use of proper page post format
Each page post format has its own pros and cons. Based on the objective you want to achieve, choose an appropriate page format. If your aim is to generate sales or site conversions, then choosing a page post link ad might do the trick. If you are interested in creating brand connection for your campaign goal then use page post photo ads would work excellently.
In terms of conversion rate Page post links enjoy a higher success rate than the page post photo ads. The reason is people look at the pictures rather than click on them to visit another page. A page post link directly takes a visitor to the landing page. On the other hand, page post link ads are not as effective as page post photo ads when it come to generating higher CTR. By knowing the difference, one can combine both into facebook advertising and get the most benefits.
You can use many other facebook advertising strategies available on the internet for marketing your business. But above are the most important ones that can really make a positive difference in your way of advertising and marketing on social media networks.