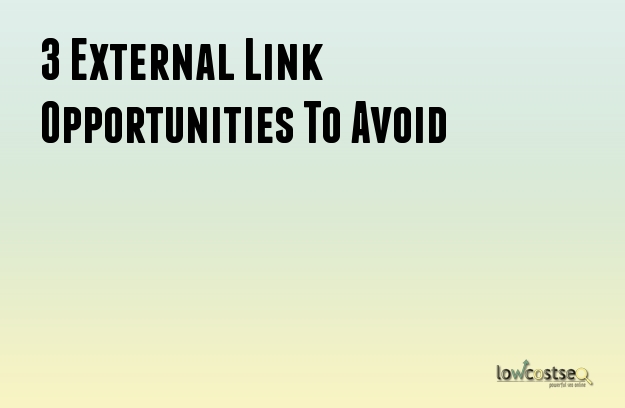 Finding the right platform takes effort. When you have great content you want to share, or simply want to reach out to other platforms and increase your brand's awareness, you can't just start associating with any and every website you find.
In fact, there are many platforms you should simply avoid. Just as Google disapproves of mass link spamming, so too does it look down on poor, low quality websites. Even if they are 'on-topic' and relevant to you, there are some platforms that have a strong reputation in the SEO community for causing nothing but trouble.
Directories
While there is nothing wrong with the nature of directories, they're SEO appeal has quickly diminished over the years. Many directories are of a low quality, often set up to charge money for that all important link.
The result, of course, is that these sites have nothing but short pieces of text, stuffed with appropriate keywords. These can easily be identified by the fact that there are numerous keywords (rather than business names) linking out, as well as the fact that some of the bigger industry names can't even be found. If they're not paying, why should you? Google treats all of these factors as spam and has been deindexing directories for a long time.
Blog Networks
While blogs themselves can prove highly useful, there is a dark side to their growing popularity. Just as SEO agencies seek out high quality blogs, relevant to their niche, so too do other webmasters start creating multiple blogs on specific industries. Their goal? Profit via sponsored content.
The problem with these blog networks is that they are technically another form of spam. If each article on the website is embedded with keywords, linking out to various different sources, it will weaken the overall effectiveness of the site. Furthermore, if its linking out to a wide range of niches, this is even worse and Google's sensitive algorithm will have no problem flagging it as spam or issuing the occasional penalty.
Another problem you need to consider is the matter of duplicated content – another factor that search engines actively disapprove of. If one webmaster has numerous sites on the same topic, how can you be sure all of the content is unique?
Article Databases
Similar to directories, article databases try to get around the spam filter by offering articles and other content. The logic here is that users will use the website for its 'high quality content', but you can quickly find these websites have little to know traffic. Just like directories, getting any piece of content published requires a small fee and typically gets you a specific keyword.
Again, this results in content on a variety of topics, linking out to platforms in various locations and industries. These are low quality websites and their mass-linking approach goes against modern SEO values.
At the end of the day, great content needs to be in the right place. This is a vital cornerstone of any SEO strategy. So, avoid platforms like the above and focus on the best home for your articles, infographics and videos. It's often better to favour quality over quantity.