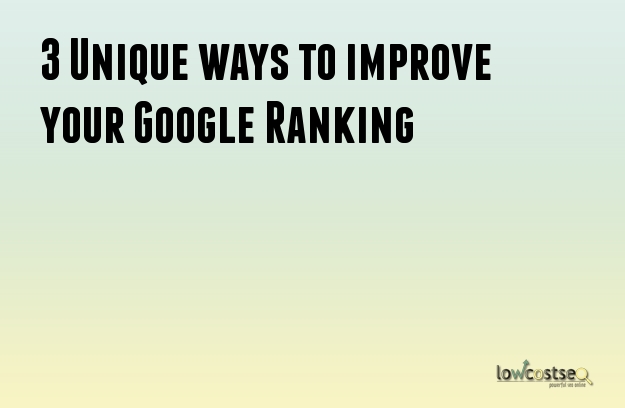 3 Unique Ways to Improve Your Google Ranking
For most websites, Google will provide the vast majority of traffic. Therefore, it's very important to rank well in Google in order to maximize your website traffic. So how does one rank well?
First off, you should have good on-page optimization. In addition, you should be building links to your website. These are the basics, and will result in the most "bang for your buck" meaning that these factors will contribute the most to your website's ranking.
However, there are a few things you can do that will increase your ranking that aren't part of the "basics." These techniques aren't used very often, so they can give you an edge over your competitor's websites.
Here are 3 unique ways to improve your Google ranking:
1. Improve Site Speed
Most webmasters don't understand that Google takes your website's loading speed into account. Websites that load faster will rank higher.
To improve your website's speed, consider reducing the amount of plugins you have activated. Try installing a "Captcha" plugin. These plugins will drastically improve your website's speed.
Try cleaning up your website's code. Poor coding practices that don't meet the coding guidelines can slow down websites.
If your website is still slow, consider switching to a better webhost. A quality webhost will make your website load faster than a poor quality one.
2. Decrease Bounce Rate
It seems that pages with less of a "bounce rate" rank better in Google. Your page's "bounce rate" is what percentage of readers enter your page then leave your website without visiting another page.
To decrease your bounce rate, improve the quality of your content, and add more links to other pages of content. This will motivate viewers to stay on your website longer and decrease your bounce rate.
3. Get Users to Share Your Articles
Many SEO experts believe that articles that get shared more via social media have a higher search engine ranking. To get users to share your articles, include "badges" for the major social media websites.
In addition, tell your users to share your articles.
If you have a strong social media presence, more people will share your articles. So start social media accounts and gain followers.
When you use these unique techniques, your ranking in Google will greatly improve. You will get the edge over the competition and increase your traffic. Unfortunately, using these techniques take a lot of work and time. If you hire our team at Low Cost SEO, we will help you use techniques like these to boost your website ranking.