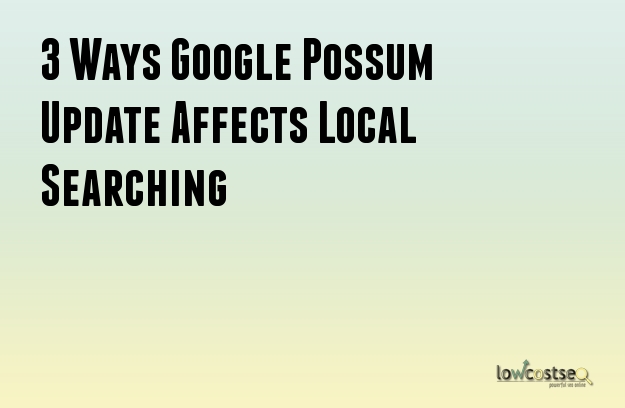 Whenever Google releases a new algorithm update, there's always a scramble for any available information. The latest release – dubbed Possum by the SEO community, is no different.
However, this update seems to very specifically influence local searches and there are quite a few changes that any reliable SEO agency should make note of. Here are the 3 most important factors that you may need to consider in your SEO strategy.
We should note, however, that a large deal of the Possum update focuses on local listings, such as those that come up in Google maps. Naturally, this influences commercial websites and sites offering local services, where a physical location is a natural priority (and a reason why people search in this manner).
Changes To Rankings Based On Physical Listings
In the past, Google has been very strict about ranking businesses based on their physical location. If your company resided outside the well defined barrier of a given area, it was much less difficult to be listed as such, even if you did the majority of your business there. Now, however, that seems to have been relaxed greatly. That doesn't mean, of course, that a business will start being listed 2 cities over, but you can now advertise your location even if it is just outside, let's say, the central business district of your town.
This has two main points to consider. First of all, this is great for companies that were previously in this situation, as they can now appear on Google's 3-pack listings, although this is a hotly contested area, as well as more localised, in-depth searches. However, the downside to this is that you will likely not be alone. If you had a strong position before, there are now more platforms being offered the opportunity to compete with you.
Address Based Filtering
While the restrictions on locations have been relaxed, the regulating of actual addresses seems to have been tightened. Google has previously done this, in an effort to prevent spam, but it does hinder businesses that share an address.
Now, reports are suggesting that companies that share an address, or even individuals that work under one larger company, will struggle to get all their listings to rank highly – Google may simply filter a number of these away. This will cause problems for companies with more than one address (even if its under a different name, as Google is getting more sophisticated) or those that share floorspace with others. Whatever the situation, now would be a good time to track any changes in your listings (and traffic). If there's a problem here, you might need to try a new approach (such as keyword analysis, social media or more direct SEO).
Greater Keyword Variance
Finally, speaking of keywords, there seems to be a greater variance in different keywords. Typically, a slight change in the query would not generate much difference in results, since the search engine was still pulling from a small list of local listings (compared to the greater content available online and visible via the search engines results page).
Now, there are some reports of a change in the keyword – even if its just to hyphenate or add a local abbreviation – causing Google to refine the results. In this case, perhaps it's time to experiment? If you're current efforts aren't working, try branching out into long-tail keywords. Even if your city doesn't have an obvious abbreviation ("NY" for New York"), try using post code abbreviations (in the middle of Birmingham in the UK? Try "B1" in addition to "Birmingham" and other typical options).