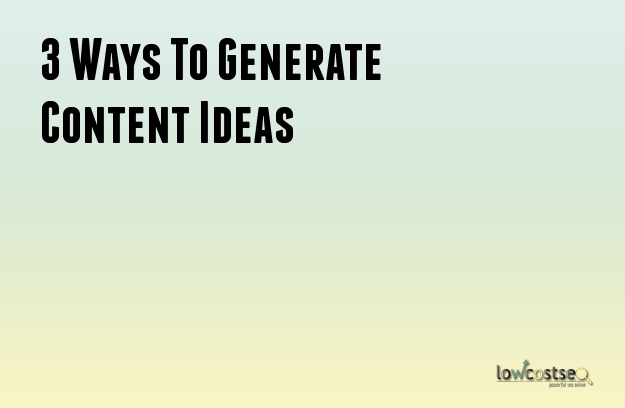 When it comes to any great SEO strategy, appealing content is always vital. People won't just read anything. It needs to be catchy and relevant to their interests. In other words, being able to generate a good content idea is a very worthwhile skill to have in the long run.
Not sure where to start? Depending on the nature of your website and SEO campaign, there are numerous ways you can generate ideas. Here are 3 of the most effective.
Beat What's Already Out There
A common method in many SEO circles is to what is called the Skyscraper technique. List-based articles are a classic example of this. Do a lot of companies have a list of top 10 computer tips? Perhaps you can write the top 15 or 20. By adding more content – or even just better content – your article arguably holds better appeal. One of the best ways to use this, however, is to try and get your content linked to from the sites linking to your competition.
Updated Classics
Another way to approach this is to simply offer updated content. Similar to the skyscraper method, this is essentially taking existing content (that has at least proven popular in the past) and updating it to meet modern issues. This is very common in the fashion industry, for example, while any business can meet current trends and changes.
Look to your competitors to find outdated content – if you instantly think you can write a better version of this, then why not? If there's potential for audiences to be interested, it's definitely worth looking into.
Look At Online Discussions
Perhaps, on the other hand, you want to find ideas that nobody is actively exploring, rather than just adapting existing topics and themes. In this case, look to places where online audiences gather. Industry specific websites and forums are a great place to start and tools such as Screaming Frog can help you extract this information into something that is easy to understand.
Here, you can search and filter the data to find emerging trends. Do certain topics keep on cropping up? Make a note of these and be sure to produce content aimed at these platforms. After all, you've just proven that there is a demand and interest in this topic, so make the most of it.
Another way to this is by using Quora, which is fast becoming an SEO tool in it's own right. This web service is full of people asking and answering questions. So, not only is it a good place to find the latest questions – it's a good place to engage with audiences and offer informative links to your content (so long as it is informative, of course).
So, there you have it, 3 different ways to generate content ideas. Of course, a great campaign may use any and all means that are at its disposal, but it helps to know you are never just isolated to any one method in particular.