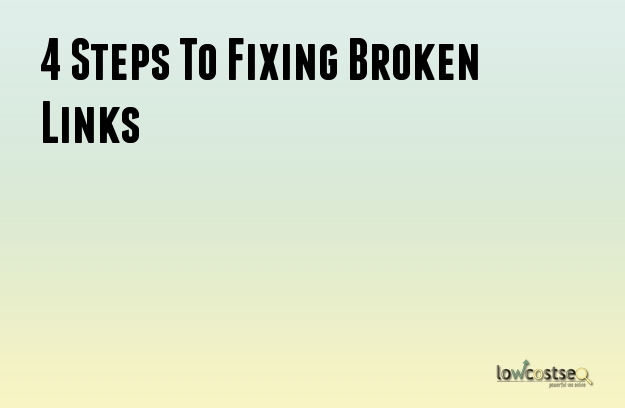 When it comes to SEO, broken links are a waste of potential. An effective link building campaign should involve both the creation of new links and ensuring the link's themselves don't disappear.
Of course, as long as you're gaining new quality links faster than you're losing links, your general profile will arguably improve. Yet link building is a lot of work, so reclaiming broken links is one way for an SEO agency to lighten their load and make use of existing opportunities.
1. Find Dead Links
There are many ways to find dead links but, ideally, you should use a specialised tool, such as Ahrefs. Why? Because Google console isn't known for being accurate or giving you the entire picture in this regard.
Be sure to collect the data, making note of the URL where the link is, where is redirects to and what the end result is – for broken links, this is most likely a 404 error page. Additionally, tools like Ahrefs can also highlight when links have been lost or removed. While this is a different issue, it is also something to be aware of (sometimes a polite e-mail and get you that link back, after all).
2. Organise The Results
Once you have the results, it makes sense to compile them. Using a simple spreadsheet, you can see if particular URLs stand out – if you've changed the URL or structure of your website without setting up proper redirects, previously existing links are going to cause errors.
By grouping them this way, you can see exactly how much work you need to do. This ensure you don't do anything you don't need to do and can, as mentioned, bring up bigger issues, whether its common URLs not being linked correctly or specific websites removing your links.
3. Set Up Redirects
For the most part, a simple 301 redirect will solve everything. This way, you don't need to contact the external website owner and, even better, one redirect will work for all matching, identical URLs. 301 redirects ensure the link works, giving users value when they click on it and letting Google pass on the link power, which helps with improving visibility.
4. Contact The Owners
There might, however, be a few times when you wish to contact the website owners directly. This is best left for noticeable situations, such as:
When the post is sponsored or paid for, so you arguably have a right to a working link.
When their content makes use of your unique information, data or infographics and the link has been typed in correctly.
If it is a platform that you have a strong, close relationship with.
If the link is relatively new – not many webmasters appreciate going through older posts to fix a singular link. It has more value for you, then it does for them.
This, of course, refers to broken links. If you've changed the URL, then you should set up a 301 redirect. You certainly shouldn't contact people to change to your new URL. This is part of the risk you take when optimise your website with a new structure, without a proper redirect in place – it is not the fault of websites linking to you through the old URL.
Is there a tool to fix broken links?
Broken links are the proverbial Grinch in the SEO efforts and strategy. 404 errors are not only harmful for the search engine ranking, but they also give the user a bad experience with the website and that is even more detrimental. Fixing the broken links should be a priority in the SEO audits.

For the sites created using WordPress, there is a broken link checker that more or less gives dependable results. Be that as it may, there are many different broken link checkers for other websites too. However, all of these tools tend to have certain limitations. They can work well for a few pages or links but, for big web sites with a huge number of pages, these tools fail to do their work effectively. If you have an old version of the Wordpress blog, these tools will not work either.

What is Integrity?
Integrity is a desktop tool that is very effective on the Mac platform. It will help you find the broken links in big websites with lots of pages. It is free app that you can download from the app store.
The tool has a number of advantages that give it an edge over the others.
It can be used easily on the big websites without them slowing down.
You can check not only broken links, but also broken images with it.
It can be used to check internal and external links.
The settings can be changed to adjust the crawling and the number of threads.
You can export the reports in pdf format.

Using Integrity

Using this tool is very easy. You just need to download and install it. You need to add the URL of your domain and the process will start immediately. The entire process may take hours to be completed depending on the size of the website and the number of pages it has. You can decide the kind of results and filtering that you want. You can only look for the bad and broken links or any other issues. You can modify the settings from the page. It will help you get rid of the broken links quickly and very fast. It is a solution that you can rely on to deliver you effective results. For the SEO side of the business, this tool can be used to get the best results.

Integrity is especially useful for those who work with blogs made with WordPress. For WordPress blogs that are very big, it can be very difficult to manage all the aspects of it. There can be a large number of pages, links and comments that you can screen and maintain with this tool. With this tool you can remove the broken link from the WordPress dashboard itself directly when you find a broken link.

The tool might not be a very simple one but it is surely one of the best free options that there is. It will help you get the job done. More importantly, it has a number of features that can help take care of a variety of tasks.
Image Courtesy:
www.shoutmeloud.com