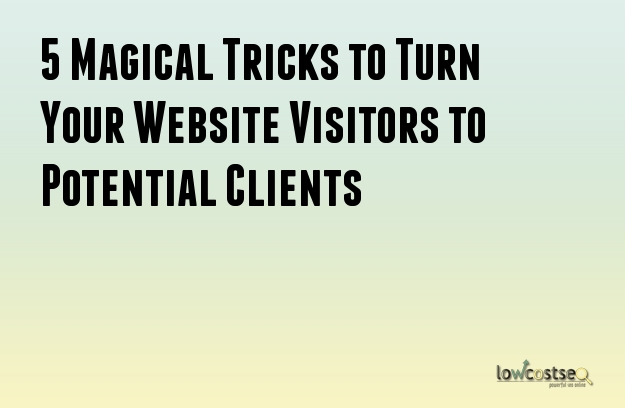 Every entrepreneur wants to have an attractive website to display their business to the world. Yes, for you to grow your business online it is important that you ask a professional web designing company to design your website. However, make sure that the company that you choose must have a reputation in the market and also make sure that the company has got an adequate amount of experience.
There are a lot of things that you need to keep in mind when designing your website as your objective is always to turn your targeted audience into potential customers for your business. A poorly designed website can never attract the attention of any individual thereby being unable to generate any traffic. Thus, it is very important to make sure that your website is designed at its best so that you do not need to put in extra effort to generate traffic.
So, what is it that you need to do so that you can turn your visitors into potential clients? Well, here are some tips that will help your website to do that.
Website Navigation
Make sure that your website navigation is very much user-friendly. This will help your customers to avoid facing hassle when they go through your website. A good navigation system will also allow your visitors stay longer in your website to find valid information related to your products and services. A poor web navigation facility will certainly avoid your visitors to stay longer. In fact, it will definitely irritate your viewers and they will certainly lose their interest.
Content Location
There have been studies done where it has been found out that humans generally have the tendency to read from left to right. Most importantly, when a person is in the landing page they certainly look for information before filling up any kind of form. You also need to make sure that the content is very much informational and straight to the point. You also need to make sure that the quality of the content is of standard quality. Providing more information is the key to advertising your business more effectively.
Describe Services and Products
The reason for your customers to visit your web page is to not only read about your business but above all it is about knowing your products and services. A maximum number of times viewers log on to your page with an intention to buy your products and services. Thus, it is very much important that you give a proper description of your products and services. By giving detailed descriptions, you are actually making it sure that your potential customers know what they are buying.
Photographs
One of the essential things that you need to forecast on your website is the images and photographs of your products and services. Photographs help to draw the attention of the users more swiftly. A good quality image of your product with proper description can certainly increase the chances of you turning your visitors into potential clients. Thus, always make sure that the photographs are actually taken by a professional photographer and not by an amateur.