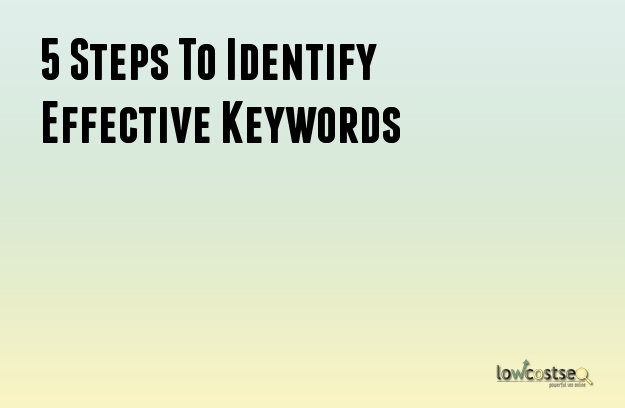 In context to internet marketing, keywords are phrases or words that are commonly searched by internet users on popular search engines such as Google. Once you have decided to work on a niche market, you need to identify keywords and include them inside the blog posts, content marketing, or article writing. Keywords are usually related to the products marketed on the site. The goal of using keywords is to get recognized by search engines. Below are the important steps that you can take for identifying the effective keywords to market your products
Brainstorm on the subject
Think about the keywords that users could possibly type in the search box and look for the products. When your brain fumbles on something write it down a paper and make a list of them. Do not be too strict about the products you market. Focus on the niche subject you are working on and jot down the keywords related to it. Moreover, keywords can be more than just single words. They can be two or three word phrases.
Do an online research on the products and find associated phrases or words
Check out ClickBank, Amazon, Ebay and other marketplaces and find out the type of products sold or advertised within the niche. Click on the product descriptions and try to find ideas for new keywords. It can be based on styles, types, flavors, areas, materials, or languages used by other nationalities.
Visit forums and blogs
Make a habit to visit successful blogs and forums related to the niche. Read the posts and reviews from the customers and identify patterns, problems, and issues that you can address in you blog. Also find the keywords linked in the posts and use the same or modified ones in your keyword list.
When you create your blog and start adding posts, base your information and keywords addressing the issues and popularity of the products. This is an effective way to drive traffic to your website.
Use Google AdWords and other free keyword tools
Use free keyword tools or Google Ad words to find possible keywords. To using Google AdWords service one need to register and it's a simple process. Give preference to the keywords that have a moderate recognition as keywords on the top usually have high level of competition.
These tools or resources along with providing a list of keywords also provide statistics and analysis. One can export the report to the worksheet and save it locally on the system for future reference.
Final keyword selection
The final list of keywords should at least contain about 30 to 50 keywords. Carefully include these inside the blogs, posts, and advertisements. Do not overuse the keywords and saturate your site. The readers and search engines will recognize the information as spam and this leads to lower rankings.
Remember, highly popular keywords may not be beneficial. Having keywords that are more precise and fit into the context provide more success and recognition.
Discover SEO Keywords Free Of Cost
If you are a blogger you will know that the biggest challenge for a writer is deciding the topic they want to write about. You are investing your time and energy in something that you care about but your effort is wasted if it does not earn any readers. Your readers are like customers to a business. If they are not impressed, the business does not earn any profits. You must create your content in a way that it sells and the readers find it interesting enough to visit your blog again.
What Do the Customers Want To Read?
If you are wondering how to know what the customers want to read about, there are some easy methods. You can mine keywords and write articles based on that. It will give you an accurate idea about that the customer is looking for and you can write engaging articles on that. It will also attract a lot of organic traffic and help you rank high on the search engines. You just need to submit the articles or blogs you have written in Google console which was earlier known as Google Webmaster.
How to Find the Right Keywords?
The trick to writing a good article and successful digital marketing is finding the right keywords and using them in the article. You can go to search analytics and find out the details about the keywords and the clicks, the impressions and so on. You will get a list of all the keywords that are usually triggered in context to your site and you will get an idea about what kind of blogs and articles to write.
You can start the process by looking for the top 100 keywords list. You will see that some of these keywords are already relevant to the existing web sites. There will also be some that are not at all relevant to your site or industry. This is because while searching Google fills up the result page entirely. Even if the relevancy of the keywords decreases after one or two results, your site may come up on the first page.
It may also happen if you use those keywords in your article, even if your article is not about that particular keyword. Hence, it is advantageous for you to know about all the keywords that can influence your website. You need to then create a SEO strategy and optimize your site, articles, headings and meta-tags with it. You also need to make proper use of it in your copywriting.
Keyword is a very important part of SEO efforts and digital marketing. With its use you can get much better results from your efforts. SEO analytics is not the only way to discover keywords. You can also do it the old fashioned way of talking to your customers and performing a survey. You need to use them just the way your customers do or you will not be able to build a connection with them or attract them to your web site. There are also some paid tools that you can use to discover good keywords.