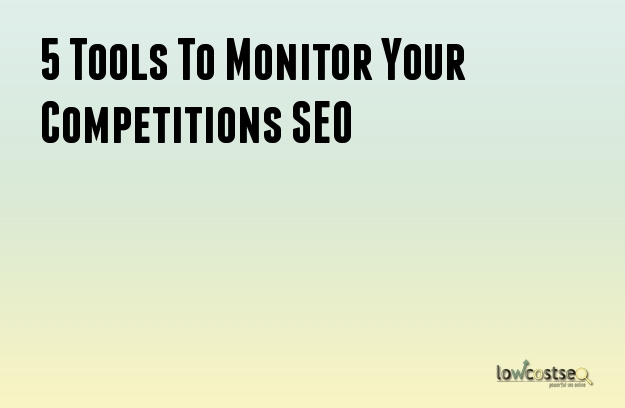 SEO isn't just about improving your position. Just like any form of content marketing, advertising or public awareness, it's about improving your position in relation to your competition.
If you increase 2 positions on the results page, that's good if your major rival only moved up 1. Everything is relative. As such, the only real way to chart your own success in your market or niche is to be aware of your competitors position.
Yet, SEO is an ongoing process, so you should also be aware of your competition's SEO efforts. Here are 5 of the best tools to help you do that.
SE Rankings
If you want something that provides broad, yet detailed, overviews, look no further than SE Rankings. This offers comparisons on various competing websites at an overview, as well as detailed info on keywords, traffic and overall visibility.
One of the best features, however, is a breakdown of the first results page. With a given query, SE Rankings details the visibility and information of each result. Assuming you're on the first page, this is a fantastic way to view the overall battleground.
Ahrefs
If you're serious about keeping tabs on both your own SEO efforts, as well as other competitors, few services are as in-depth as Ahrefs.
This service lets you compare a number of websites at a time. Want graphs that actively show your success, as well as your three closest competitors? Ahrefs can let you do that. This is an easy way to get an overall view of whether you're successful or not. If you aren't, Ahrefs also has the capabilities of showing your competitors strongest keywords, destination pages and referring domains.
Majestic SEO
Majestic SEO is similar to Ahrefs, but does things in its own unique way. Again, you have a detailed breakdown of keywords, links, domains and other important information. What is more unique, perhaps, is its ability to separate domain types.
Arguably, the majority of your SEO packages, alongside keyword planning itself, will focus on .com domains, or domains suitable for your home country, such as .co.uk for the United Kingdom. Yet there is some great link power in .gov and .org platforms too. Majestic is great for separating this and seeing if any competitor is taking this clear initiative.
Link Diagnosis
As the name might suggest, Link Diagnosis primarily focuses on offering insight into various links. Yet, as any SEO expert will tell you, there is much power in a link.
While this plug-in is only available for Firefox, it is well worth considering. It offers analytic insight on anchor text and even highlights the visibility of no-follow links, which is something many people forget to consider. If that wasn't enough, it lets you export data into spreadsheets, which is a handy way of giving other departments your SEO results.
InfiniGraph
While all of the above options prioritise keywords, anchor text and linking from websites, InfiniGraph is a great way to keep track of social media optimisation.
As a tool, InfiniGraph is great for finding new trends, understanding what products or services are being actively talked about and otherwise getting detailed reports about the social media landscape. For SEO purposes, it's great for seeing how your competitors respond to niches. Are they offering better insight, or adapting to trends faster than you are? InfiniGraph helps answer these questions.
Hopefully, these tools will help you keep track of your rival SEO campaigns. Once you know where your competition is focused, you can better steer your own SEO efforts to counter – or beat – them.