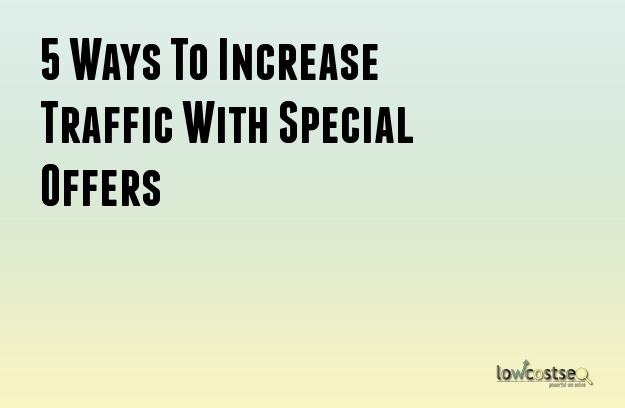 When it comes to SEO and online visibility, a special offer or discount is one of the best tools available for an e-commerce shop.
Of course, this needs to be done well. After all, if you're sacrificing part of your profits, you want a strong return of investment. In this case, you should be able to generate new leads, traffic and customers, hopefully making up any discounts in future sales and business.
E-Mail & Newsletters
While everyone often focuses on search engine results pages, there's still a lot to be said for e-mail. Most businesses easily acquire a list of their customers, both new and old, and this can be used to offer discounts at the right time.
Perhaps, for instance, you want to reward long time customers to ensure they stay with your brand? With the right timing, and market awareness, this can help keep your loyal customers with you, rather than losing them to the competition. Likewise, if you have a list of previous customers who have not made a purchase in quite sometime, a special discount might be the temptation they need to revisit your site.
Discount Websites
Similarly, there are also various websites you can use to promote discounts or deals. Groupon is the most well known, but there are various national and international variants as well. Some promote discounts for a limited period, while many also require a deal to get a certain amount of customers before it activates. This latter one can help ensure you get some relative return on your investment.
Of course, by actively promoting on other sites, you can build up back links and improve your SEO. A link or two isn't going to make a big difference, but it will help nonetheless and, likewise, the benefits of visibility on a well known platform, such as Groupon, shouldn't be ignored.
Targeted PPC
PPC campaigns are a great way to get noticed on Google, especially for e-commerce. Deals can always be an effective way to create clicks, as few people can resist "20% off". However, maybe you don't want to offer everyone such a big discount?
We previously spoke about IF adword campaigns, which allow you to offer different adwords for different users. Here, you can target lapsed customers, new customers or cart abandonders, for example, offering them something more tempting than what a typical user might see.
Be Mobile Ready
People use their mobile phones a lot. We've previously spoken about the mobile first index, but it is also true that mobile browsing is often a first resort when it comes to shopping.
There are many ways to survive online but, again, a special offer helps you stand out. When a user isn't looking to spend too long browsing, you need to stand apart from your peers. You can use various apps and adverts to do this as well. There are tools to create coupons that let you track how successful they are.
Website Promotions
If there's a website or blog out there that has a large audience relative to your potential customer base, a partnership can be a great way to attract them over. This has the benefit of both gaining you potential links (through the partnered website and any social media channels) as well as gaining traffic that is actively interested in your niche. By making the offer unique to that platform, it can be beneficial for both.
As you can see, there are many ways to tempt people over with a special offer. You don't need to do all of these at once but, if you ever need to revitalise your customer base, these are some great ways to do so.