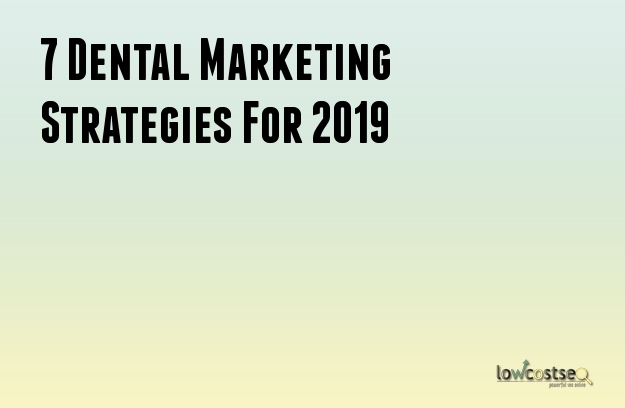 The rules have changed.
Patients no longer engage with old commercial advertisements and messages anymore.
Their expectations have changed with regards to communication with brands, and this includes your dental practice studio.
Similarly, you as a dental practitioner have probably noticed the dynamic changes in the evolution of dental marketing, which comes with new challenges. So you're looking for ways of attracting new dental patients.
In order to grow your business, you'll need to get your marketing efforts aligned with the trends in the medical industry, especially dentistry.
While people understand the importance of regular visits to the dentist, most of them procrastinate on appointments.
A 2018 survey by Delta Dental Plans Association reveals that 85 percent of Americans understand the importance of oral health on their overall wellbeing. However, 42 percent don't prioritize dental visits as often as they like.
There's no shortage of patients in need of dental services, so if you're looking to get more visits from new patients, it's time you got your practice in front of a larger audience.
Dental practitioners have gone smart these days. They have recognized that the fear associated with dental treatment stops a large number of people to visit them.
Not that they were not aware of the fact earlier but they have now started using it in their sales campaign. Online marketing these days has an element of assurance to patients against pain and anxiety during dental procedures.
Trust me, it really matters if you think of it from a patient's perspective.
Let's talk about marketing strategies in detail. These practices when combined will help a great deal to expand your customer base in 2019.
1. Content Marketing
Image: Franklin Dental Studio
Content is a great tool for making your prospects or buyers' journey outstanding.
It is a key mover that leads them through the sales funnel, converting them from just casual site visitors, to actual visits to your dental studio, and ultimately brand loyalists.
You can share content on your blog, or social media, but ensure it grabs their attention right from the start.
Other tools like landing pages, email content, online reviews, and visuals are an important yet indispensable part of your digital marketing strategy for your success.
Image: Disruptive Advertising
These show your clients that your services are reliable, so ensure your content offers actual training and information that's interconnected, offering solutions to common situations they find themselves in.
Don't stop until you convert leads to patients, thereby earning you many positive references as they share with their family and friends about your practice online, and offline.
Distribute your content to gain visibility and grow in the digital world. Ensure it reaches your target audience, by using channels or networks they frequent like social media, so as to improve organic reach.
Image: Disruptive Advertising
You can also promote it in different formats like newsletters (email), newsfeed, and more.
2. Social Media
Image: Pinterest
There's a volume of clients available at your fingertips if you learn to use digital marketing to target them effectively.
Among the tactics you can employ today is using social media channels and/or networks like Facebook, Instagram, and others that are relevant for your dental practice.
Social media channels reach billions of people every day, making them a popular and great place to connect with prospects and new patients.
You cannot afford not to have a presence on at least one social channel.
Choose the channels and sites that are best aligned with your dental practice goals, and then share content that is relevant, regularly, while engaging your audiences.
For best results, ensure you keep your profiles updated, and post interactive, engaging, and valuable content.
On Instagram, you can connect with clients and get more engagement as you get to use creative images to attract clients to your practice.
Instagram Stories is a popular tool you can use for higher engagement as you show people around your practice using fun and creative videos.
Image: Mineshpatel Dentistry Instagram
On Facebook, you have several other tools like location targeting that reaches patients with the right information, in the right context and time.
This works for your practice as you generate higher ROI easily, as you deliver relevant ads via Facebook to patients in close proximity to your business.
Other tools on Facebook include Messenger and Chatbots, which help communicate with your target audience.
You can use Facebook Messenger to stay in touch even outside working hours, as chatbots take over the process, even booking appointments and interact with patients any time.
3. Online Reviews
Image: RevenueWell
Having a blog and social media presence are important ways of reaching and educating your patients. But how about getting feedback from them?
Well, you can do this by asking them to write online reviews about your dental practice, which will in turn inform prospective clients about the experience of your studio, and services.
Ask those you've treated before to write reviews on your site or your social pages so as to boost your reputation.
Study factors such as average star rating, the frequency and total number of reviews, so as to know how to adjust and even attract more patients to your business.
4. Online Paid Advertising
It's not enough to just post content and share on social media and expect people to know about you. Businesses need advertising.
This is why digital marketing tools such as paid ads on Google or Social Media come in handy to help you generate leads and increase web traffic.
Image: Closerscafe
You can also purchase placements on third-party apps or sites to promote your practice, based on your budget.
Get in front of your target market if you want to attract more of them, and allow them to find you with minimal effort.
5. Use Video
Image: eHow
Video is one of the most consumed pieces of content online, compared to text content, as it is more desirable to watch, visually more interesting and catching.
Creative videos are also easier to remember, and generate a vast proportion of internet traffic. This can help you boost your dental practice.
You can use video marketing, providing your audience with relevant, timely, and valuable material, but you can also use live video in social media like Facebook Live, YouTube Live, Twitter's Periscope, and others.
Live video can boost your dental practice because audiences experience everything in real time, and you too receive feedback as you communicate. So it's a two-way communication, which in turn brings better understanding.
The benefit is in engagement, reach, and you get to know what your patients look for, they're frequently asked questions and concerns, whether about your brand or services offered.
When integrated in your dental digital marketing, video content makes you more likely to become a top choice for new patients in case of dental emergencies.
You can also use simulations or animation to illustrate dental concepts that are technical, and make them easier to understand for patients who don't have medical knowledge.
6. Artificial Intelligence
Image: PBHS
AI has transformed sectors and industries. Medical industry is among the early beneficiary. The question is 'Are you using to your benefit'?
Advances in technology give you the chance to understand the patient journey faster, and help you make quick, educated, and data-driven marketing decisions.
This, in turn, means stronger marketing for your business, better marketing segmentation, and lower cost per acquisition.
Optimize your site for voice search and SEO, because tools like Siri and Alexa have raised voice search as an important aspect for Google ranking.
Voice search impacts on SEO, so your site should be contextually optimized to match conversations (not just keywords), and ensure patients and prospects find you at the top of Google searches.
7. Influencers
Image: UpCity
Influencers are more like brand advocates who distribute your messages to a larger audience. It's more like endorsements, but they're on a social scale, and are digitally organic.
You can hire bloggers or vloggers who command large audiences, and use them to spread your message to your target audience.
Other ways influencers can help is when they endorse your brand in video content, in turn generating traffic and leads for your practice.
They can share your social pages, or write reviews on your business site or Google My Business profile. They can also write blogs for you and impact on your reputation and integrity.
Final Thoughts
In order to make a huge impact on your dental practice, you need a clear understanding of your specific niche, and digital marketing.
Knowing the strengths and how to use these to increase leads will offer real advantages for your business.
Go ahead and try out these ten strategies, but remember to be consistent and deliver a great user experience for customers and prospects.
Sam Zaman -
Sam Zaman loves to write on technology and related stuff. E-commerce, mobile and internet marketing equally drive her interest. Likes gardening and experimenting with new recipes. An avid reader and absolutely mad @bout donuts. She has long been associated with Mofluid. -