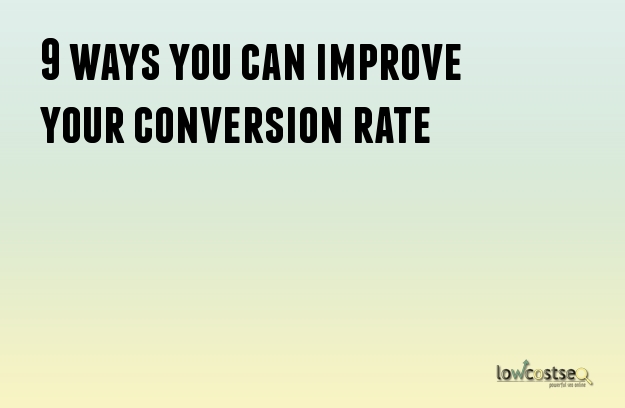 Do you want to increase the conversion rate for your website? If you want your online marketing campaign to be successful, you will have to convert your KPIs, such as clicks and views, into sales. To get those conversions for your website, you can do a few things. These tips and methods can help you boost the conversion rate for your website. So if you want a higher conversion rate, you better follow these tips.
1. Use a strong headline
Your headline for your landing page is one of the most important aspects of drawing in clicks and getting them converted. You should come up with several different choices for a headline and then settle for the strongest one that you have come up with. The use of good headlines for your landing pages can really increase the conversion rate of your website.
2. Use action verbs in your writing
If you really want to grab the attention of your viewers, you had better give them a strong motivation to do so! Using strong action verbs gives people a strong motivation to perform that action. So if you want a higher conversion rate, use the appropriate language. You can use verbs such as save your money, take your place, etc.
3. Post testimonials on your website
Having testimonials can increase the credibility of your website. Through the use of review testimonials, your customers and viewers will trust you more. And that trust will lead to more conversions for your website.
4. Display your subscriber or social media follower count
This social media follower counts act just like testimonials. They will serve the purpose of increasing the credibility of your website. If your customers see that you have a higher follower number, they are more liable to trust you. And of course, more trust equals a higher conversion rate.
5. Display recommended or related products
You can garner more sales and a higher conversion rate if you include a recommended or related product on each product page. This can lead clicks for more customers, which means a higher chance of them buying that product from your website.
6. Let the customers fill in as few required fields as possible
The less hassle that a customer has to go through for registration, the more likely that you will make a sale. Potential customers should only have to give the bare minimum information in order to register for your website.
7. Promise a guarantee
You can get a higher conversion rate if you include a guarantee on your website. This guarantee could be a money-back or return policy. Adding this guarantee can lead more customers to buy from your store.
8. Effectively use videos
Adding videos to your landing page can help show your product in action. If customers see that a real person is using your product in a video, they can better imagine themselves buying and using that product.
9. Display customer reviews
You should enable other customers to review the products that they have bought. If other customers see those reviews, they are better able to make the decision of whether to purchase the product or not.