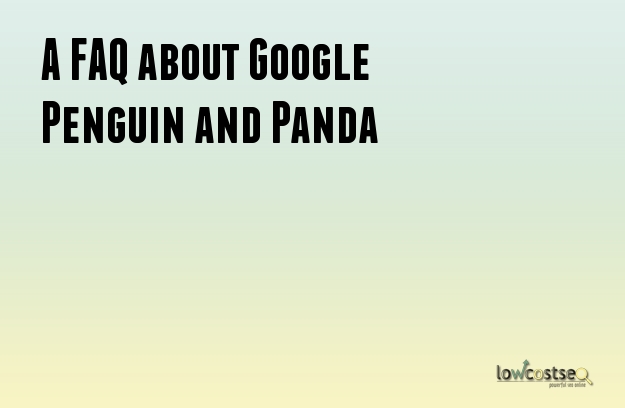 Anybody who is interested in SEO has to know about Google Panda and Google Penguin. These are algorithms designed by Google that can make a strong impact on the SEO of any website including yours.
In fact, Google employs many such algorithms for ranking the various websites. The algorithms ensure that the searcher manages to find something that is actually useable by them quickly.
Google Panda
Google Panda was originally called Farmer when it was first released. This particular algorithm is employed to locate and penalize websites that have the following characteristics.
Websites with poor content that has no value whatsoever to the visitor.
Websites that more ads and banners than actual content.
Websites that possess a lot of content duplicated from other sites.
The primarily aim of the Google Panda algorithm is to ensure that the users actually get quality content when they are searching for something. A website which can offer trustworthy content of a high quality will find that they are getting promoted to better ranks. Of course, the content should be written nicely and have a high value for the reader. Due to the better information provided by such websites, Google Panda rewards these sites with a better rank.
Google Penguin
This particular algorithm is used by Google to penalize certain websites. These websites have the following characteristics.
The use of unscrupulous tactics to increase the rank unfairly.
Illegal SEO processes such as black hat SEO tactics, link farming and keyword stuffing.
Usage of too many backlinks that are of a low quality.
An unrealistically excessive usage of anchor text that has an exact match with the search term.
Google released the penguin algorithm to ensure that the webmasters stay away from unfair SEO practices. Instead, you should focus on creating a diverse range of backlinks with sites that are of a high quality. Your content should not be solely concerned with the rankings. Rather, it should be meant to provide value to the visitor.
Impact on SEO
These algorithms are updated constantly by Google. This means, that the SEO of your website will also be affected by the updates every time they are released. This can be problematic as you will have to guess constantly on the way the update will affect your website. The easiest and possibly the best option is to concentrate on those areas that really matter.
Content
Content will be important to the success of your SEO irrespective of the updates that are produced by Google.
Layout
The design of your website is going to be an important issue with your visitors along with the link practices. They also happen to be quite important to Google.
Interaction and Engagement
People like to be engaged when visiting the website. They do not always want to be a mute reader browsing through the blogs and articles. You should provide them scope for engagement through a comments section and social buttons.
It is important to know about Google Penguin and Panda while going for SEO. However, by ensuring that the users have a good experience with your website, you will have no problems with those algorithms.