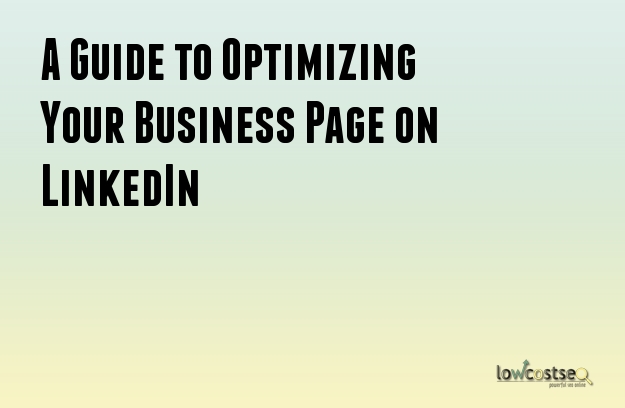 There can be no doubt that LinkedIn is a very effective tool for businesses and companies. These organizations can increase their exposure and improve brand awareness. Ultimately, they can give a significant boost to their sales. LinkedIn has become of the best social networking websites for businesses. With more than 3 million company pages, LinkedIn is one of the best websites in the world specifically devoted to businesses.
Is there any need for optimization?
According to some reports, around 35% of the members of LinkedIn visit and use the social network on a daily basis. The predominant use of the network is in the field of business. There are tremendous opportunities for businesses and companies to connect with each other. They can even connect with their potential customers. Thanks to these features, it has become important for businesses to maximize the visibility they have on the LinkedIn network.
Optimization Techniques
When you are optimizing your profile on LinkedIn, you will have to take care of many different aspects. However, the process is by no means a very difficult one.
You should never skip out any detail when setting up the page for your company on LinkedIn. Recent surveys have shown that around half of the profiles on LinkedIn are not complete. A complete LinkedIn profile will maximize the opportunities of your business. That is why include all information regarding your business, brand, product amongst others.
LinkedIn allows you to upload a maximum of three banner images. These banners can be hyperlinked and they can rotate automatically. You should take full advantage of this opportunity. You can add banner images that have calls to action. These images can be hyperlinked to specific pages in your website which can convert the visitor.
Do not forget to make showcase pages. If your business has multiple products or services to offer, then you do need these pages. These pages will enable you to create content that is unique and optimized especially for particular target audiences of each product.
Every day, a huge number of searches are performed on LinkedIn. Some of these searches are conducted by people looking for a particular business or a specific user. However, the majority of people search using the help of keywords. That is why you need to put in a bit of effort when you are creating pages. These pages should be optimized for the search engines. By getting an optimized page, you will increase the visibility that your business will have.
Video content can be a good addition. You can leverage this content to your benefit as videos can covey messages in a more effective manner. Images and textual content can be good but will never be as effective as a video.
Do not forget to share content on LinkedIn. However, the content should be of a good quality, interesting and informative. You can also create unique content and share it. It is, in fact, one of the best ways to increase the visibility of your business page in LinkedIn as well as its utility.
Make the best use of LinkedIn. LinkedIn can be a powerful tool for your business if you manage to utilize it correctly.