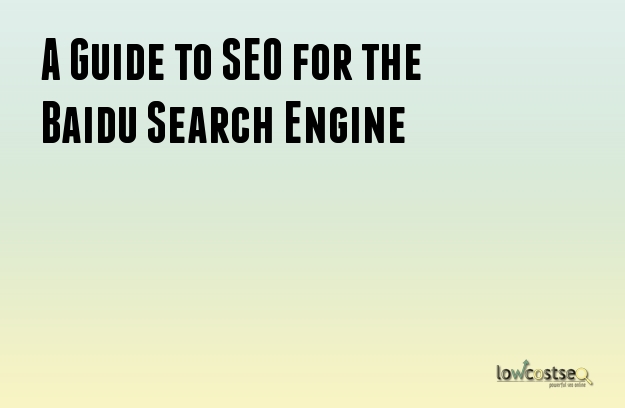 In China, it is not Google that rules the search engine market. Rather, it is Baidu. This search engine holds the most sway in the country. Therefore, if you are planning to increase the reach of your online marketing campaign in China, you need to get your website optimized for Baidu.
Baidu may be a search engine like Google but there some pretty significant differences between the two. There is certainly a strong censorship imposed by the government of China. The technical requirements for SEO in Baidu are different and specific. Huge amounts of links have to be created and the quantity and quality of content is also quite high. Here are a few of the points that you should keep in mind while optimizing the website for Baidu.
Creating Content for Baidu
The rules for content in Baidu can be quite difficult for someone not used to optimizing websites for this search engine. At the same time, it is extremely important to be familiar with the Chinese language as it is preferred by Baidu.
Duplicate content must be avoided at all costs.
Simplified Chinese is preferred by Baidu over Romanized or traditional Chinese.
It is crucial to ensure that the words are relevant to the overall content. After all, Chinese has multiple meanings and multiple dialects.
The quantity of content as well as its quality is an important factor for SEO in Baidu.
Meta Descriptions are still used by Baidu as a ranking factor.
Meta tags should be based on keywords and Baidu still uses them as a ranking factor although this practice has been stopped by most other search engines such as Google.
The ALT attributes for images are critical when optimizing for Baidu as the algorithm of the search engine for image crawling is rather basic.
Baidu, like other search engines, gives importance to blogs. At the same time, Baidu has a news feed specifically for blogs.
The Technical requirements for SEO
The SEO techniques that can be used for Baidu are different from other search engines.
Baidu dislikes websites that have a robots.txt file. Such files must be removed immediately.
Your website should have only one domain. Multiple domains and sub-domains are frowned upon by Baidu. You should have separate domains if your website has multiple versions for different languages and they should never be linked back to the Chinese version.
Your website should preferably be hosted from a server within China.
The loading speed of the website should be high.
Baidu cannot crawl any elements that have been placed inside iFrames. Therefore, important information should not be placed inside them.
In the same way, Flash and JavaScript should be avoided in your website. If you do use them, do not display any important information through them.
Baidu is certainly different from the other search engines when it comes to SEO. However, optimizing your website for it is a must if you want to reach the consumer base in China. After all, it has the lion's share of the market in the country.Here is a great infographic outlining Baidu vs Google. This was retreived from Digimind Inc via visual.ly