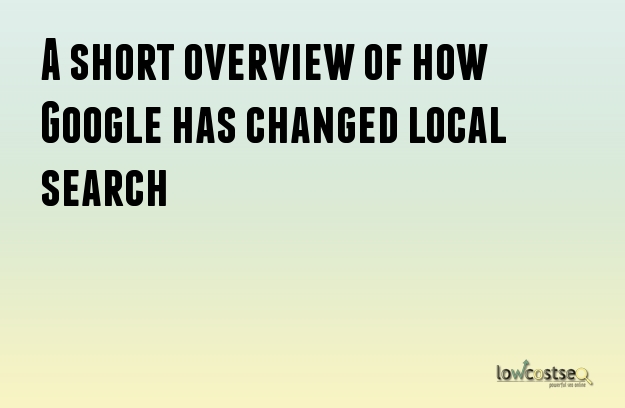 A short overview of how Google has changed local search
Over the years, Google has changed a lot of its search engine algorithms. And nobody knows the exact code of their algorithms. But one thing can be said is that they have done a lot of big changes to local listings and local search in general. If you are a search marketer it can be useful to know even a short history of all of those changes that Google has made to local search. Here is a brief overview of all of the big changes to local search that Google has made over the years.
2005
In 2005 Local Business Center and Google Maps were merged. This meant that Google users could find business information straight on Google maps. This is probably what we see today in Google. It allows users of the search engine to check relevant business information straight away on Google Maps.
2007
Universal Search was implemented during this year. And it blended traditional search results with other listings from other search engines as well. This meant that store listings could potentially get more exposure, as long as they were properly optimized to grab the attention of users on Google.
2010
Google Places officially launched and replaced the Local Businesses Center. Among the updates that Google Places bought included imaging of the business location and added options for local advertising as well. Google Places also included Geo-tagging in order to make search results more localized. And this meant that specific Places could be aligned with real localized search results on Google as well. Google Places made local search even a bigger thing with Google users. This meant that local brick and mortar shops also needed to think about developing SEO strategies of their own.
2011
Google implemented Venice in 2012, which instead of defaulting to general sites, search results would bring users to more location-specific sites. Venice would then take into account the user's own location, to give them search results based on them. Companies could then direct users to their specific websites based on where the user is located.
2013
In 2013, one notable change was Hummingbird. This new update allowed the search engine bots to better understand the context of long-tail search queries. User Intent then became a bigger factor in SEO.
2014
Google Pigeon was another during 2014. And it brought local search to the forefront even more. Search results would be better aligned to specific search queries made by the user. It thus allowed the local search to be tied more closely with other traditional factors as they related to SEO.
2015
Google's RankBrain update was another significant step for local search. This was basically a machine learning program for the search bots, which made Google even better at understanding the intent of its users. Therefore sites had to have relevant content if they wanted to be on the first SERP.
2016
Local search was no longer limited to the immediate geographic area, thanks to the 2016 Possum update. Google's new update meant that it would no longer rely only on search terms, rather it would also use the user's location in order to determine which sorts of businesses could be related to the search query that they are making.