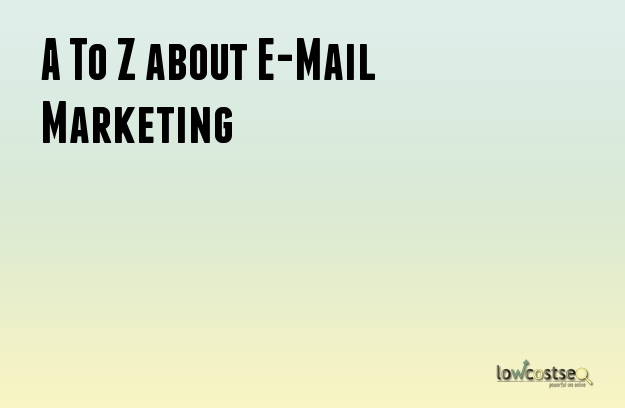 Marketing is important for every business. It is the life source for successfully running a business. However, you must be aware of various types of traditional marketing techniques that help in successful marketing campaigns. There are also varied types of marketing techniques that are available for online marketing. One of them is E-mail marketing! Yes, e-mail marketing is the best form of direct marketing in the virtual world. These days everything is available online. Even business are going viral online for a better hold of the market. For every type of business, the Internet is a perfect place to increase the company's brand name and also build a wider cliental base.
However, e-mail marketing is not that simple. There are a number things that you need to keep in mind while planning for your e-mail marketing campaign. So, what is the right strategy to be followed for successful e-mail marketing? What things are needed to be kept in mind that will help in successfully passing your marketing message through e-mail marketing? Here, is a list of those tips. It is also one of the most cost-effective modes of marketing and helps in better brand hammering.
Make sure the conversation is one to one
As you know that e-mail marketing is a form of direct marketing so it is important that the conversation you are looking to have with your customers should always be one to one basis. This will help in making the person feel important and also build a better customer loyalty towards the company. Apart from that, the customer also feels that you care about him or her and they are also an important part of the company.
Do a consistent e-mail marketing campaign
Always make sure that once you start with e-mail marketing it is important that you continue with it on a regular basis. Just by sending an e-mail as a part of your marketing campaign is not enough. You will have to make sure that e-mails are sent on a regular basis. This is the only way to run a successful e-mail marketing campaign. The e-mail that you write should also live up to the expectations of the customers.
Always write an attractive subject line
When your customers receive an e-mail the urgency of opening the e-mail depends on the message that is written on the subject line. This is the reason why it is important that the message that you write on the subject line should be attractive and strong. It should be able to get the customer curious about the message that is written in your e-mail. It is only when you are able to generate that interest in the mind of the customers that you're marketing message will be conveyed to them successfully.
Maintain the perfect length in your e-mail message
The length of the e-mail will depend on the type of marketing message that you are trying to convey to your customers. If the message is direct then readers will certainly like reading a shorter copy of your message. And, if you are looking to write a lengthy message in your e-mail make sure it is interesting enough to keep the reader interested.